Publication:
Trabajo social comunitario: perspectivas teóricas, metodológicas, éticas y políticas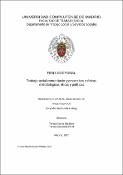 Files
Authors
Advisors (or tutors)
Editors
Publisher
Universidad Complutense de Madrid
Abstract
La investigación presentada trata sobre el trabajo social comunitario, realizando una revisión crítica del mismo, incorporando miradas cuestionadoras y analíticas respecto de las bases que sustentan la intervención social con las comunidades. El estudio plantea comprender los enfoques teóricos, metodológicos y ético-políticos con los que el trabajo social comunitario enfrenta los escenarios complejos, diversos y heterogéneos del Chile actual. La tesis revisa ampliamente la noción de comunidad tanto en la teoría social clásica como en los autores críticos de la modernidad. Se aborda a su vez, la vivencia de la comunidad en América Latina, con especial atención en las formas en que las disciplinas la han incorporada, y los sentidos prácticos que lo comunitario posee en la región. Así también, se recorre la trayectoria de la intervención comunitaria en trabajo social, acudiendo a la historia y desarrollo de la profesión en Chile como contexto del estudio. La investigación utiliza una metodología cualitativa, mediante la cual se realizaron entrevistas en profundidad a trabajadores sociales en las regiones de Atacama, Valparaíso, Metropolitana y de la Araucanía, logrando con esto una valoración crítica de las teorías, prácticas y localizaciones ético-políticas que los y las profesionales incorporan en las intervenciones con las comunidades. La tesis busca interpelar al trabajo social y su intervención en los contextos comunitarios. Asimismo, a través de los discursos, se visualiza la forma en que lo comunitario es afectado por las limitaciones de las políticas públicas en un modelo neoliberal, la exclusión como condicionante de las intervenciones, el riesgo de la instrumentalización de la participación ciudadana, entre otros aspectos. En el transcurso del estudio se incorpora el enfoque de género de forma transversal, el cual sitúa la investigación, entregándole una corporalidad y una localización específica; al mismo tiempo, se explicita un posicionamiento crítico, con base en el proyecto ético político de un trabajo social emancipador, asentado en los derechos humanos, la lucha contra todas las formas de dominación, y el compromiso con las comunidades.
The research presented is about community social work, performing a critical review thereof, incorporating inquisitive and analytical views about the bases that support the social intervention with communities. The study pretend to understand the theoretical, methodological and ethical-political approaches of how social community work faces complexty, diversity and heterogeneous scenarios of current Chile. The thesis widely reviews the community notion in both classical social theory and critical authors of modernity. The investigation pays special attention to the way use by disciplines building the idea of the community in Latin America, and the practicalities that the community has in the region. It is includded too, a path of community intervention having a look to the history and development of the profession in Chile as part of the study. The research uses a qualitative methodology, in-depth interviews conducted to social workers on the regions of Atacama, Valparaíso, Metropolitana and Araucanía, achieving a critical possition of those theories, practices and ethical-political locations that professionals interventions incorporated to communities. The thesis seeks to question the social work and their involvement in community context. Also, through the speeches, we see the way community is affected by the limitations of public policies in a neoliberal model, exclusion as a condition of interventions, the risk of manipulation of public participation is viewed, among others aspects. During the study the gender approach is transversal, which places the research, giving him a physicality and a specific location; at the same time, a critical stance explicit, based on the ethical political project of an emancipatory social work, seated on human rights, the fight against all forms of domination, and commitment to the communities.
Description
Tesis inédita de la Universidad Complutense de Madrid, Facultad de Trabajo Social, Departamento de Trabajo Social y Servicios Sociales, leída el 05-02-2016
Collections