Publication:
Nanoparticles for human viral and bacterial infections prevention and treatment.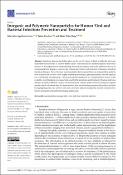 Advisors (or tutors)
Editors
Abstract
Infectious diseases hold third place in the top 10 causes of death worldwide and were responsible for more than 6.7 million deaths in 2016. Nanomedicine is a multidisciplinary field which is based on the application of nanotechnology for medical purposes and can be defined as the use of nanomaterials for diagnosis, monitoring, control, prevention, and treatment of diseases, including infectious diseases. One of the most used nanomaterials in nanomedicine are nanoparticles, particles with a nano-scale size that show highly tunable physical and optical properties, and the capacity to a wide library of compounds. This manuscript is intended to be a comprehensive review of the available recent literature on nanoparticles used for the prevention and treatment of human infectious diseases caused by different viruses, and bacteria from a clinical point of view by basing on original articles which talk about what has been made to date and excluding commercial products, but also by highlighting what has not been still made and some clinical concepts that must be considered forfutures nanoparticles-based technologies applications.
Description
RESEARCHER ID M-3378-2014 (María Vallet Regí) ORCID 0000-0002-6104-4889 (María Vallet Regí)
Collections