Publication:
Transverse momentum dependent operator expansion at next-to-leading power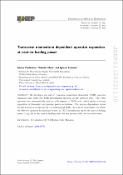 Advisors (or tutors)
Editors
Abstract
We develop a method of transverse momentum dependent (TMD) operator expansion that yields the TMD factorization theorem on the operator level. The TMD operators are systematically ordered with respect to TMD-twist, which allows a certain separation of kinematic and genuine power corrections. The process dependence enters via the boundary conditions for the background fields. As a proof of principle, we derive the effective operator for hadronic tensor in TMD factorization up to the next-to-leading power (similar to q(T)/Q) at the next-to-leading order for any process with two detected states.
Description
© The Authors 2022 Authors are very thankful to V.Braun and A.Manashov for numerous discussions and helpful comments, and to M.Beneke and collaborators for the sharing of preliminary results of their computation. This study was supported by Deutsche Forschungsgemeinschaft (DFG) through the research Unit FOR 2926, "Next Generation pQCD for Hadron Structure: Preparing for the EIC", project number 30824754. I.S. is supported by the Spanish Ministry grant PID2019-106080GB-C21. This project has received funding from the European Union Horizon 2020 research and innovation program under grant agreement Num. 824093 (STRONG-2020).
Collections