Publication:
Ética pública frente a corrupción. Instrumentos éticos de aplicación práctica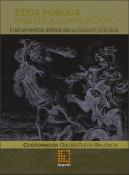 Authors
Advisors (or tutors)
Editors
Publisher
Instituo de Administración Pública del Estado de México (IAPEM)
Abstract
El objetivo de este trabajo es el de presentar estudios que, desde el campo de la ética pública sirvan, por un lado, para mejorar la cultura ética de los servidores públicos y, por otro, desarrollen herramientas que sirvan de dique para contener las prácticas corruptas. Los trabajos que a continuación se presentan destacan la importancia de la ética en el servicio público e indagan sobre diversos instrumentos éticos de aplicación práctica. Se identifican herramientas éticas y casos prácticos tomados de diversos países, por ejemplo, de la Unión Europea, particularmente los casos de Finlandia y España; de América cabe destacar, por una parte, la Ley de Ética Pública la Oficina Ética de Gobierno de Estados Unidos y, por otra, un caso práctico del Estado de Nuevo León, México, enfocado en la Policía Judicial. Al identificar y desarrollar la forma de operar de herramientas éticas de aplicación práctica ya existentes en otros países, nos encontramos que esta obra ofrece estudios que sirven de referente para hacer comparaciones; también ofrece opciones y reflexiones al problema de la corrupción en el ámbito público. De esta manera, la obra contribuye a la generación de una cultura ética que potencializa diversos valores como la transparencia, la rendición de cuentas, el espíritu de servicio y que motiva y rescata la dignidad del servidor público. En suma, da elementos para la generación de conocimiento en este campo al mismo tiempo que contribuye a poner el tema en debate, destacando su importancia y necesidad.
The aim of this paper is to present studies from the field of public ethics serve, on the one hand, to improve the ethical culture of public servants and, secondly, to develop tools that serve as a dam to contain corrupt practices . The work presented below highlight the importance of ethics in public service and inquire about various ethical instruments of practical application. ethical tools and practical cases from different countries, for example, the European Union, particularly the cases of Finland and Spain are identified; America include, on the one hand, the Public Ethics Law Ethics Office US Government and, secondly, a case of Nuevo Leon, Mexico, focused on the Judicial Police. By identifying and developing ethical way of operating tools existing in other countries practical application, we find that this work offers studios serving as a reference for comparison; also it offers options and reflections to the problem of corruption in the public domain. In this way, the work contributes to the generation of an ethical culture that potentiates various values ​​such as transparency, accountability, the spirit of service and motivates and rescues the dignity of public servant. In sum, it gives elements for generating knowledge in this field at the same time helping to put the issue under discussion, highlighting its importance and necessity.
Collections