Publication:
Tratamiento dental integral: prótesis fija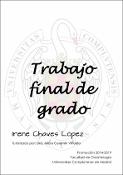 Authors
Advisors (or tutors)
Editors
Abstract
Tras una primera visita en la que se realiza una historia clínica completa a la paciente, un diagnóstico integral y la exposición de las opciones de tratamiento, se determina que el orden a seguir será el expuesto anteriormente: una primera fase de control de la infección, seguida de una fase de restauración y finalmente el mantenimiento.
Citation
1.López-Herranz GP, Torres Gómez O. Variabilidad de la clasificación del estado físico de la Sociedad Americana de Anestesiólogos entre los anestesiólogos del Hospital General de México. Rev Mex Anest. 2017; 40 (3): 190-194. 2) Arnett G, Bergman R. Facial keys to orthodontic diagnosis and treatment planning. Part II. Am J Orthod Dentofacial Orthop. 1993; 103(5): 395-411. 3) Okeson JP. Historia clínica y exploración de los trastornos temporomandibulares. En: Tratamiento de oclusión y afecciones temporomandibulares. 7ª ed. Barcelona: Elsevier España; 2013. p. 170-221. 4) Mallat Desplats E, Mallat Callís E. Prótesis parcial removible y sobredentaduras. 1ªed. Madrid: Elsevier España; 2003. 5) Chu SJ. Gingival Zenith positions and levels of the maxillary anterior dentition. J Esthet Restor Dent. 2009; 21 (2): 113-120. 6) Chu SJ. Range and mean distribution frequency of individual tooth width of the maxillary anterior dentition. Pract Proced Aesthet Dent. 2007; 19(4): 209-215. 7) Shillingburg HT. Fundamentos esenciales en prótesis fija. 3ªed. Barcelona: Quintessence S.L; 2000. 8) Armitage, GC. Development of a Classification System for Periodontal Diseases and Conditions. Ann Periodontal. 1999; 4(1): 1-6. 9) Papapanou1 PN, Sanz M, Buduneli N. Periodontitis: Consensus report of workgroup 2 of the 2017 World Workshop on the Classification of Periodontal and PeriImplant Diseases and Conditions. J Clin Periodontol. 2018; 45(20):162–170. 10) Casals Peidró E, García Pereiro MA. Guía de práctica clínica para la prevención y tratamiento no invasivo de la caries dental. RCOE. 2014; 19 (3): 189-248. 11) Zuluaga OH. Evaluación funcional de las restauraciones protésicas fijas. Serie de casos. Univ Odontol. 2016; 35(75). 12) Martínez Rus F, Pradíes Ramiro G, Suárez García MJ. Cerámicas dentales: clasificación y criterios de selección. RCOE. 2007; 12(4): 253-263. 13) Oteo Calatayud J. Blanqueamiento dental. En: García Barbero J. Patología y terapéutica dental. 2ª ed. Barcelona: Elsevier España; 2014. p. 469-476. 14) Ferreira Carvalho T, Mello Lima JF, Melo de-Matos JD. Evaluation of the Accuracy of Conventional and Digital Methods of Obtaining Dental Impressions. Int. J. Odontostomat. 2018; 12(4): 368-375. 15) Carreño Hernández MA, Cabratosa Termes J (dir). Estudio in vitro sobre la resistencia a la fractura y tipo de fallo de prótesis fijas adhesivas elaboradas con distintos materiales y diseños [tesis doctoral]. [Barcelona]: Universitat Internacional de Catalunya; 2016. 16) Flores Concha PH, Canales Huarhua J, García Linares S. Rehabilitación de piezas dentarias con tratamiento de conductos. Enfoque multidisciplinario. Odontol. Sanmarquina. 2010; 13(2): 30-33. 17) González-Ramírez AR, Virgilio-Virgilio TM, De la Fuente-Hernández J. Life-time of metal-free dental restorations: A systematic review. Rev ADM. 2016; 73(3): 116-120. 18) Gracis S, Thompson VP, Ferencz JL. A new classification system for allceramic and ceramic-like restorative materials. Int J Prosthodont. 2015; 28(3): 227-235. 19) De la Paz Suárez T, García Alguacil CM, Ureña Espinosa M. Ionómero de vidrio: el cemento dental de este siglo. Rev electrón Dr. Zoilo E. Marinello Vidaurreta. 2016; 41(7). 20) Sanz-Sánchez I, Bascones-Martínez A. Terapéutica periodontal de mantenimiento. Av Periodon Implantol. 2017; 29(1): 11-21.