Publication:
Pickering Emulsions Containing Cellulose Microfibers Produced by Mechanical Treatments as Stabilizer in the Food Industry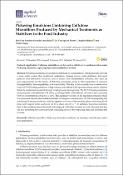 Authors
Monte Lara, M. Concepción
Advisors (or tutors)
Editors
Abstract
Pickering emulsions are emulsions stabilized by solid particles, which generally provide a more stable system than traditional surfactants. Among various solid stabilizers, bio-based particles from renewable resources, such as micro- and nanofibrillated cellulose, may open up new opportunities for the future of Pickering emulsions owing to their properties of nanosize, biodegradability, biocompatibility, and renewability. The aim of this research was to obtain oil-in water (O/W) Pickering emulsions using cellulose microfibers (CMF) produced from cotton cellulose linters by mechanical treatment through a high-pressure homogenizer. The O/W Pickering emulsions were prepared with different O/W ratios by mixing edible oil (sunflower oil) with water containing CMF at concentrations of up to 1.0 wt%. The apparent viscosity of the separated emulsion phase was measured. Results showed the feasibility of using low concentration of CMF for preparing and stabilizing Pickering emulsions, with the apparent viscosity of the emulsion phase increasing 60–90 times with respect to the sunflower oil, for a shear rate of 1 s−1 . In addition, theoretical nutrition facts of the emulsions were calculated and compared with other fats used in foods, showing that they can be a promising low-calorie product containing dietary fiber, replacing trans and saturated fats in foods.
Collections