Publication:
Tener hambre de luz y devorar una estrella: la poesía de J.E. Eielson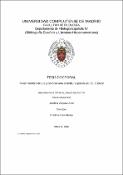 Files
Authors
Advisors (or tutors)
Editors
Publisher
Universidad Complutense de Madrid
Abstract
The present Doctoral Thesis is framed within the study of the poetry of the great Peruvian artist Jorge Eduardo Eielson (April 13, 1924 – March 8, 2006). In general terms, it focuses on the symbols that articulate both his literary productions and his work in the field of visual arts. Throughout this project, I used the principles of the modern semiotics as well the myth criticism theory developed by Gilbert Durand in his work The Anthropological Structures of the Imaginary as the basis. Following the assumption of considering Eielsońs work as an indivisible whole, in contrast to many studies that often attempted to analyse part of his creative work by privileging one medium over the others, I analyzed each symbol in all its forms, looked at its presence and relevance in his entire work and sought the archetypal level of each term. For this task, the works of Joseph Campbell and Mircea Eliade provided valuable guidances. At the beginning of this study I present a short author's biography, in order to help to understand the circumstances under which his poems were composed. (Let us remember that most of his books were published many years after their conception). Throughout this chapter, I have carefully considered the Lima period, his relationship with his first mentor, the anthropologist and writer José María Arguedas who introduced him to the knowledge of the ancient civilizations of Peru, his link with the literary circles of Lima and his first acknowledgments: the National Poetry Award (1944) and the National Drama Award (1948)...
Description
Tesis inédita de la Universidad Complutense de Madrid, Facultad de Filología, Departamento de Filología Española IV (Bibliografía Española y Literatura Hispanoamericana), leída el 05-02-2016
Collections