Publication:
Regímenes del fuego y dinámica del paisaje rural en el Sistema Central: Serra da Estrela y Sierra de Ayllón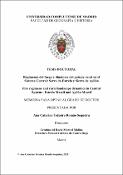 Files
Advisors (or tutors)
Editors
Publisher
Universidad Complutense de Madrid
Abstract
Los incendios rurales han sido históricamente uno de los principales factores de trasformación del paisaje en las regiones montañosas del interior de la Península Ibérica. Aunque la interacción del paisaje rural con los incendios a lo largo del siglo XX se haya estudiado abundantemente en la Península Ibérica, el conocimiento histórico a largo plazo es limitado, pero podría proporcionar un contexto valioso para comprender la resiliencia de los paisajes. El Sistema Central es una región natural que comienza en la Serra da Estrela, en Portugal, y termina en la Sierra de Ayllón, en España, sobrepasando las fronteras político-administrativas existentes. Asimismo, sus dos extremos presentan características semejantes por formar la misma región, pero sus contextos sociopolíticos son diferentes. El objetivo principal de esta tesis es incrementar el entendimiento de los regímenes del fuego a largo plazo y la dinámica del paisaje rural en los dos extremos del Sistema Central, profundizando en la hipótesis de que el paisaje y el fuego interactúan como componentes de un sistema socioecológico, y que, cuando ese sistema socioecológico se desestabiliza, la relación se altera y el riesgo de incendios se incrementa. Para ello, se ha recurrido a diversas técnicas metodológicas de geografía. En primer lugar, se ha procedido a un análisis comparativo entre los extremos oriental y occidental Sistema Central, en lo que se refiere a la interacción reciente entre los cambios en el paisaje y en el fuego, recurriendo sobre todo a métodos de análisis estadístico y espacial. Posteriormente, se ha reconstruido el registro histórico de incendios rurales y se ha analizado el uso del fuego en el marco del sistema rural tradicional previo a la institucionalización de la defensa contra incendios forestales y a las políticas de exclusión del fuego, comparando la Serra da Estrela y la Sierra de Ayllón y sus casos de estudio a nivel local .Para ello, se ha utilizado el método geohistórico, basado sobre todo en fuentes documentales y cartográficas. Por último, se ha profundizado a escala local de análisis en la Sierra de Ayllón, en lo que se refiere a la relación entre los cambios en el paisaje y la evolución del régimen de fuego, igualmente, con métodos de geografía histórica...
Rural fires have historically been one of the main factors of landscape change in the inner mountain áreas of the Iberian Peninsula. Although the interaction of fire and rural landscape throughout the 20th century has been extensively studied in the Iberian Peninsula,long-term historical knowledge is limited and can provide a valuable context to understand landscape resilience.The Central Mountain System is a natural regional unit which go beyond the existing political-administrative boundaries. It begins in the Estrela massif, in Portugal, and it ends in the Ayllón massif, in Spain.These two massifs have similar landscape characteristics, although they are opposite located in the end of the Central Mountain System and with different socio-political contexts. The main objective of this thesis was to increase the understanding of long-term fire regimes and rural landscape dynamics at both ends of the Central Mountain System. We hypothesized that fire and landscape interact as components of a socio-ecological system, and once this socio-ecological system is disrupted that relationship is changed and the fire risk is maximized. Various methodologies of geography were used. First, a comparative analysis was carried out between the eastern and western ends of the Central Mountain System regarding the recent interaction between changes in the Landscape and fire, using mainly statistical and spatial analysis methods. Second, the Historical record of rural fires was reconstructed...
Description
Tesis inédita de la Universidad Complutense de Madrid, Facultad de Geografía e Historia, leída el 20-06-2020
Collections