Publication:
Órdenes topológicos en espines y fermiones: fases cuánticas y computación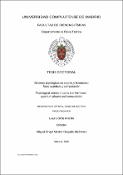 Files
Authors
Advisors (or tutors)
Editors
Publisher
Universidad Complutense de Madrid
Abstract
Esta tesis, titulada Órdenes topológicos en espines y fermiones: fases cuánticas y computación, pretende resaltar la importancia que las fases topológicas de la materia han adquirido en los últimos años y resumir los resultados que hemos obtenido en este campo. La motivación que nos lleva a aplicar la topología para estudiar este tipo de orden dela materia es la siguiente: La topología examina las propiedades de un sistema invariantes bajo deformaciones continuas. Las propiedades topológicas se caracterizan por dos rasgos fundamentales: globalidad y robustez. Globalidad, puesto que involucran el sistema holísticamente. Robustez, puesto que la mayoría de perturbaciones físicas posibles en cualquier fase de la materia son continuas y por consiguiente, las propiedades topológicas se preservan frente a las mismas...
This dissertation, entitled Topological orders in spins and fermions: quantum phases and computation highlights the relevance of the novel topological phases and summarises the results achieved by the authors in this challenging field of knowledge. Topology is concerned with the properties which are preserved under continuous deformations. Thus, it can be characterised by two main features: globality and robustness. Globality, since it involves the system as a whole. Robustness, since the topological properties are invariant under continuous transformations,i.e., mostly every perturbations that maintain the physical system as such...
Description
Tesis de la Universidad Complutense de Madrid, Facultad de Ciencias Físicas, Departamento de Física Teórica, leída el 19/11/2018
Collections