Publication:
Cualificaciones profesionales de la industria farmacéutica en el marco de la LOGSE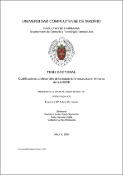 Files
Advisors (or tutors)
Puerto Sarmiento, Francisco Javier
Editors
Publisher
Universidad Complutense de Madrid
Abstract
El sector farmacéutico en Europa, constituye por su tamaño el quinto sector industrial, representa la mayor contribución individual a la balanza comercial europea en ámbitos con gran intensidad de alta tecnología e investigación y desarrollo y ofrece una fuente decisiva de puestos de trabajo de elevada cualificación y contribuye de manera significativa a alcanzar los objetivos económicos, sociales y de salud pública. En España, la industria farmacéutica es líder en I+D, productividad, exportaciones y empleo. Se caracteriza por ser fuertemente innovadora, el 20,2% de la I+D industrial española en 2012. Su productividad es un 54% superior a la media industrial lo que se traducen en incrementos sostenidos del valor añadido que aporta a la economía del país. Con aproximadamente 40.000 empleos directos, cuenta con un empleo indirecto de 95.000 y un empleo inducido de 65.ooo, lo que reúne aproximadamente 200.000 empleos en su entorno. El empleo es la principal preocupación de los españoles desde hace ya mucho tiempo. Las empresas y las organizaciones de la industria farmacéutica, de alta competitividad, se caracterizan por ser productoras de medicamentos destinados a restablecer y mejorar la salud de las personas, así como investigadoras de productos destinados a prevenir y erradicar enfermedades, y promotora de innovación, lo que requiere tener en cuenta que esta relación con la salud hace que esté sometida a una serie de controles exhaustivos, contribuyendo, además, que el costo de los medicamentos es pagado directamente por la Administración sanitaria, por lo que los poderes públicos ejercen un control muy elevado. La memoria de tesis que se presenta corresponde al período entre 1990 y 2015. Es a comienzo de esa década cuando se aprueba la hoy derogada Ley 25/1990 del Medicamento, así como su desarrollo normativo, donde inciden la Directiva Europea 91/356/CEE , por la que se establecen los principios y directrices de las prácticas correctas de fabricación de los medicamentos de uso humano que se basa en que los estados miembros de la CEE mantienen altos estándares de Garantía de Calidad en el desarrollo, fabricación y control de medicamentos debido a un sistema de autorizaciones de los estados miembros que asegura que todos los productos han sido evaluados por una autoridad competente que asegura los estándares de seguridad, calidad y eficacia...
The pharmaceutical sector in Europe, the fifth largest industrial sector, represents the greatest single contribution to the European balance of trade in areas with a great concentration of high technology and research and development. It is a decisive source of highly-qualified jobs, thus contributing significantly to the achievement of economic, social aims and public health goals. In Spain, the pharmaceutical industry is at the forefront of R & D, productivity, exports and employment. It is characterized by being highly innovative, representing a 20.2% of the Spanish industrial R & D in 2012. Its productivity is 54% higher than the industry average which translates into sustained increases of added value to the economy. With approximately 40,000 direct posts, it provides for 95,000 indirect and 65.ooo knock-on jobs: a total of approximately 200,000 jobs in its sector. Employment has been the main concern of Spanish for quite a long time. The highly-competitive businesses and organizations of the pharmaceutical industry are characterized by producing drugs aimed at restoring and improving the health of people, and by producing research to prevent and eradicate diseases. It is also a promoter of innovation, and because of its relationship with health, it is subject to a series of exhaustive tests, contributing also to the cost of medicines. Since drugs are paid directly by the health authorities, the public authorities exercise a high degree of control. The doctoral dissertation that is being submitted covers the period between 1990 and 2015. It is in the early nineties when the now repealed Medicine Act 25/1990 was passed, together with its regulatory procedures, which affects the European Directive 91/356 / EEC, lay down the principles and guidelines of good manufacturing practice for medicinal products for human use. These are aimed at guaranteeing high standards of quality assurance in the development, manufacture and testing of medicinal established for all the member states of the EEC resulting from a system of authorizations from member states to ensure that all the products have been assessed by a competent authority to ensure standards of safety, quality and efficacy. These regulatory procedures demand pharmaceutical quality assurance and the responsibility of laboratories in complying with good manufacturing practice as part of quality assurance which ensures that products are consistently produced and controlled in accordance with appropriate quality standards for the purpose for which they are intended. It also requires that staff receive initial and on-going training, including the theory and application of the concepts of quality assurance and good manufacturing practice, and ensuring that different production operations are carried out in accordance with pre-established instructions and procedures and in accordance with good manufacturing practice...
Description
Tesis inédita de la Universidad Complutense de Madrid, Facultad de Farmacia, Departamento de Farmacia y Tecnología Farmacéutica, leída el 22-09-2015
Collections