Publication:
Origen de la competencia del poder civil sobre las Iglesias en las doctrinas protestantes: estudio histórico e interés actual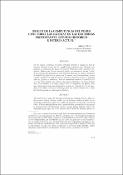 Authors
Advisors (or tutors)
Editors
Publisher
Universidad Complutense. Facultad de Derecho
Abstract
En este estudio se presentan las teorías episcopal, territorial y colegial. Se trata de sucesivas doctrinas teóricas que los ius publicistas protestantes han elaborado para justificar la competencia del poder civil (señores territoriales) sobre cuestiones eclesiásticas. Mientras que la teoría episcopal justifica esa competencia en una "cesión" de las competencias episcopales al señor territorial hasta que no vuelva a producirse la unidad de las Iglesias de la reforma con la romana, para el territorialismo o teoría colegial, el título en virtud del cual los príncipes protestantes ejercen su potestad sobre las Iglesias es el territorio. Sobre un determinado territorio la autoridad civil ejerce un poder absoluto, que incluye en los asuntos eclesiásticos. Ese poder absoluto trata de ser limitado en la teoría colegial. Para el colegialismo, las Iglesias como todo colegio tienen cierta autonomía basada en sus derechos colegiales. Se pone de manifiesto en el trabajo, cómo estas doctrinas guardan una estrecha relación con la teoría del Estado imperante en cada momento histórico.
This study tries to explain the episcopal, territorial and collegiate theories. These are the successive theorist doctrines worked out by Protestant authors of public law to justify that ecclesiastical matters were within the discretion of civil power (territorial lords). Whereas episcopal theory tries to justify that these episcopal powers are granted to territorial lords until Reformed churches reunited Roman Catholic Church, the territorial theory argue that is the territory which intitle the Protestant princes toexercise their jurisdiction over the churches. On an certain territory, civil authority exercises an absolute power which includes ecclesiastical affairs. The collegiate theory attempts to limit these absolute power. Collegialism maintains that churches, as every college, have a particular self-government based on their collegiate rights. This study makes clear that these doctrines bear a close relation to the historically prevailing state theory.
Collections