Publication:
Nuevos sistemas de liberación controlada de ropinirol para el tratamiento de la enfermedad de Parkinson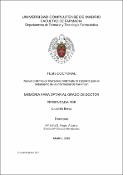 Files
Authors
Advisors (or tutors)
Editors
Publisher
Universidad Complutense de Madrid
Abstract
La enfermedad de Parkinson constituye la segunda enfermedad neurodegenerativa más prevalente, después de la enfermedad de Alzheimer, siendo un proceso irreversible y progresivo, cuyo origen no está aun totalmente esclarecido. En la actualidad la enfermedad de Parkinson no tiene cura, por lo que los objetivos de los tratamientos actuales se orientan a: reducir los síntomas, mejorar la calidad de vida de los pacientes, evitar o disminuir las posibles complicaciones de la enfermedad, y evitar o disminuir las posibles complicaciones derivadas de los tratamientos. OBJETIVO El objetivo de esta Tesis Doctoral ha sido el desarrollo, caracterización y evaluación de dos nuevos sistemas terapéuticos; microesferas y nanopartículas biodegradables de ropinirol, para su administración en el tratamiento de la enfermedad de Parkinson. Dichas formulaciones podrían mejorar los tratamientos actuales. PROCEDIMIENTO EXPERIMENTAL - Desarrollo y validación de un método analítico para la cuantificación simultánea de ropinirol base y clorhidrato de ropinirol por cromatografía líquida de alta resolución y con detección UV (HPLC-UV)...
Parkinson's disease is the second most prevalent neurodegenerative pathology after Alzheimer's disease, being an irreversible and progressive process, with its origin still not completely understood. At present, Parkinson's disease has no cure, so the objectives of current treatments are aiming at: Reducing symptoms, improving the quality of patients' life, avoiding or reducing possible disease complications, and avoiding or decreasing the possible complications derived from the treatments. OBJECTIVE The aim of this Doctoral Thesis is to develop, characterize and evaluate two new biodegradable therapeutic systems of ropinirole: microspheres and nanoparticles, as new efficient delivery systems for Parkinson's disease. EXPERIMENTAL PROCEDURE  Development and validation of an analytical method for the simultaneous quantification of ropinirole as free base and ropinirole as hydrochloride, by High Performance Liquid Chromatography with UV detection (HPLC-UV)...
Description
Tesis inédita de la Universidad Complutense de Madrid, Facultad de Farmacia, Departamento de Farmacia y Tecnología Farmacéutica, leída el 13-07-2017
Collections