Publication:
La acumulación por desposesión y por conservación como dos caras de la misma moneda en la ecología-mundo. El caso de Brasil en el periodo post-Washington y post-Río 1992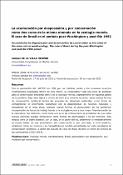 Authors
Advisors (or tutors)
Editors
Abstract
Con la aprobación del UNFCCC en 1992 por las distintas partes y los sucesivos acuerdos multilaterales alcanzados dentro de este marco, se consolidaron toda una serie de prácticas para la conservación ambiental dentro de la ecología-mundo, especialmente en aquellos países de la periferia. Bajo esta lógica y dentro de todo este sistema histórico, estas nuevas formas de conservación neoliberal dentro del proyecto del desarrollo sostenible, como forma de compatibilizar el crecimiento económico con la disponibilidad de recursos naturales y energéticos en el largo plazo, implican nuevas formas de privatización de los territorios, incorporación de fuerza de trabajo barata a la ecología-mundo y una mayor financiarización de la naturaleza. No obstante, existe toda una serie de críticas hacia la posibilidad de que estas nuevas prácticas puedan enmarcarse como formas de acumulación y no de rentismo. Este trabajo tiene un doble objetivo: por un lado, en el plano teórico, determinar si verdaderamente se puede hablar de una acumulación por conservación y, por otro lado, a nivel empírico, establecer cómo se concreta y se compatibiliza el modelo extractivista con este paradigma de conservación neoliberal, a partir del estudio de caso de Brasil durante el boom de precios de las commodities (2003-2013)
Through the approval of the UNFCCC by the different parties in 1992 and the posterior multilateral agreements made within this frame, several practices for environmental conservation have been consolidated inside world-ecology, especially in those countries that belong to the periphery. Under this soul and inside this historical system, these new forms of neoliberal conservation within the sustainable development project, as a way to combine economic growth and access to natural and energetic resources in the long term, imply new mechanisms of commodification of territories, integration of new cheap labor force in world- ecology and a higher financialization of nature. However, there are several critics that argue the possibility that these new practices are not ways of accumulation but of rentism. This work aims to determinate, in the theoretical realm, if it is actually possible to establish an accumulation by conservation; as well as in a more empirical and realm, to explain how it takes places and how the extractivist model is conjugated with the neoliberal conservation paradigm, using the case of study of Brazil during the boom prices of commodities (2003- 2013).
Collections