Publication:
The Batad Kadangyan Ethnic Lodges Project: community-based indigenous tourism in a Unesco World Heritage rice terrace cultural landscape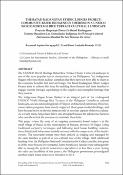 Advisors (or tutors)
Editors
Publisher
Universidad Complutense de Madrid, Servicio de Publicaciones
Abstract
The UNESCO World Heritage Batad Rice Terrace Cluster Cultural Landscape is one of the most popular tourist destinations in the Philippines. Yet, indigenous Ifugaos who tend these paddies complain that they have not been able to share in the economic benefits that tourism brings. The Batad Kadangyan Ethnic Lodges Project aims to address this issue by enabling these farmers and their families to engage tourists through capitalizing on the tangible and intangible heritage that they possess. The indigenous Ifugao house (baluy) is an integral part of the endangered UNESCO World Heritage Rice Terraces of the Philippine Cordilleras cultural landscape, and an outstanding jewel of Filipino architectural patrimony. However, conservation programs have mostly neglected these grass-roofed dwellings, and have focused more on the rice terraces only or on other aspects of the rice culture. As a result, many baluys have fallen into disrepair because the subsistence farmers who own them lack the resources to maintain these huts. This paper relates the story of an ongoing community-based project s in the small village of Batad, in the municipality of Banaue, province of Ifugao. Using traditional carpentry techniques and following local house building customs, three dilapidated baluys were initially restored with the cooperation of the familyowners. The renovated houses were then utilized as lodging and managed by the same families as part of an eco-cultural tour of the village. With additional funding from the Philippine National Commission for Culture and the Arts given in 2010, more houses were repaired. Some beneficiary families were subsequently able to recoup the project's restoration expenditures in less than a year. Seeing the value and feasibility of this project, the Philippine government promulgated another major house restoration initiative in 2014. Difficulties facing the project include the unavailability of building materials, monitoring issues, and lack of marketing / promotion. Amidst these challenges, The Batad Kadangyan Ethnic Lodges Project tries to seek the right balance of tourism, cultural enrichment and community empowerment in the adaptive reuse of these traditional houses.
El conjunto de Terrazas de Arroz de Batad, Paisaje Cultural de la UNESCO, es uno de los destinos turísticos más populares de las Islas Filipinas. Sin embargo, los indígenas Ifugaos quienes se ocupan de estos arrozales se quejan de que no han sido capaces de participar de los beneficios económicos que trae el turismo. El Proyecto Batad Kadangyan Ethnic Lodges trata de abordar este tema mediante el permiso a estos agricultores y sus familias a involucrar a los turistas a través de capitalizar el patrimonio material e inmaterial que poseen. La casa indígena Ifugao (baluy) es una parte integral de las amenazadas Terrazas de Arroz Patrimonio Mundial de la UNESCO, en el paisaje cultural de las cordilleras filipinas, y una joya sobresaliente del patrimonio arquitectónico filipino. No obstante, los programas de conservación fundamentalmente han desatendido estas viviendas techadas con hierba, y se han centrado más en las terrazas de arroz solo o en otros aspectos de la cultura arrocera. Como resultado, muchos baluys han comenzado a deteriorarse ya que los agricultores de subsistencia propietarios de las mismas carecen de los recursos para mantenerlas. Este trabajo se relaciona con la historia de un proyecto basado en la comunidad que todavía continúa en el pequeño pueblo de Batad, en el municipio de Banaue, provincia de Ifugao. Utilizando las técnicas de carpintería tradicional y siguiendo las costumbres de construcción de las casas locales, se han restaurado inicialmente tres baluys en malas condiciones con la cooperación de los propietarios- la familia. Las casas renovadas fueron entonces utilizadas como albergues y gestionadas por las mismas familias como parte de un tour eco-cultural del pueblo. Junto con financiación suplementaria de la Comisión Nacional Filipina para la Cultura y las Artes otorgada en 2010, se repararon más casas. Algunas familias beneficiarias fueron a continuación capaces de recobrar los gastos del proyecto de restauración en menos de un año. Viendo el valor y la viabilidad de este proyecto, el gobierno filipino promovió otra iniciativa de restauración de una casa principal en 2014. Las dificultades del proyecto incluyen la inviabilidad de los materiales de construcción, aspectos de supervisión y falta de publicidad/marketing. En medio de estos desafíos, el Proyecto Batad Kadangyan Ethnic Lodges trata de buscar el correcto equilibrio entre turismo, enriquecimiento cultural y fortalecimiento en la reutilización adaptativa de estas casas tradicionales.
Collections