Publication:
Unos apuntes sobre las carencias del Régimen de Responsabilidad Societaria del Administrador de la Sociedad Cotizada.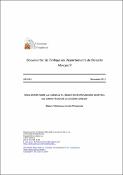 Advisors (or tutors)
Editors
Abstract
En el trabajo se exponen de forma sintética las principales dificultades que suscita el ejercicio de la acción social de responsabilidad contra los administradores en el marco de las sociedades cotizadas. ABSTRACT: This paper examines the main difficulties raised by exercising corporate actions for liability in listed companies.
Description
Texto de la comunicación presentada en el XI Seminario Harvard-Complutense "Restructuring of the financial system and new negotiation strategies", celebrado en Harvard Law School los días 7,8 y 9 de octubre de 2013, con el patrocinio de ALLEN & OVERY (Madrid), BANCO SANTANDER, ILUSTRE COLEGIO NOTARIAL DE MADRID y COLEGIO DE REGISTRADORES DE ESPAÑA.