Publication:
Efectos psicosociales y políticos del secreto estatal: el caso de los servicios de inteligencia en España antes, durante y después de la Transición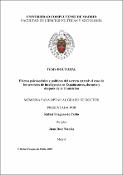 Files
Authors
Advisors (or tutors)
Editors
Publisher
Universidad Complutense de Madrid
Abstract
Esta tesis doctoral investiga los efectos resultantes de la aplicación del secreto de Estado. Se ciñe a la etapa de transición de la dictadura a la democracia en España. Su objeto consiste en responder a la pregunta de qué tipo de relaciones vinculan al Poder y el Secreto con el Estado. Analiza la acción estatal que el secreto encubre. Examina los efectos psicosociales y políticos que el secreto genera en la sociedad y en quienes administran los secretos estatales y aplican su designio: oficiales y agentes de Inteligencia, así como consejeros áulicos y estadistas. Todos ellos tratan de salvaguardar los intereses estatales permanentes que aseguran la integridad territorial y la continuidad histórica del Estado..
The he present doctoral dissertation deals about the effects caused by the application of State secret. It is limited to the period of transition from a dictatorship to a democracy in Spain. Its main object is to answer the question on the type of relations that link Power and State Secret. The dissertation analyzes the state actions that secret hides. It examines the psychosocial and political effects that secret generates in society and in those who administer state secrets and apply their purposes: intelligence officers and agents, as well as advisors and state officials. They all try to safeguard permanent state interests that maintain the territorial integrity and the historical continuity of the State...
Description
Tesis inédita de la Universidad Complutense de Madrid, Facultad de Ciencias Políticas y Sociología, leída el 03-10-2019
Collections