Publication:
Entorno web para la comparación de metaheurísticas inspiradas en inteligencia de enjambre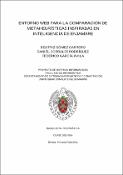 Advisors (or tutors)
Editors
Abstract
Este proyecto está constituido por una página web que permite la ejecución de distintas metaheurísticas inspiradas en la inteligencia de enjambre con el objetivo de optimizar distintos tipos de funciones, tanto sobre dominios continuos como discretos. Estas distintas ejecuciones pueden ser modificadas mediante múltiples parámetros y permiten la visualización de los distintos resultados obtenidos, de forma tanto gráfica como estadística. Dentro de las ejecuciones, se permite la obtención de distintas comparativas, que permiten al usuario, no solo estudiar los distintos métodos por separado, si no que ofrece la posibilidad de comparar los resultados de varias ejecuciones entre ellas. Se ha conseguido, por tanto, una aplicación web que permite el estudio de numerosos métodos de optimización, en distintas funciones de minimización, con la posibilidad de ver gráficamente el comportamiento de las poblaciones de cada uno de estos métodos, que permite a usuarios con un conocimiento de dichos métodos tanto amplio, como más reducido, entender el funcionamiento de estos métodos tras variar los distintos parámetros que definen tal comportamiento.
This project is formed by a web page that allows the execution of different metaheuristics inspired by swarm intelligence with the goal to optimize different kinds of functions, both of continuous and discrete domains. These various executions can be modified by a multiple number of parameters and allow the visualization of the different results obtained, both in a graphic and statistic way. Within the executions, the obtaining of different comparatives is allowed, which enable the user not only to study the different methods separately but also offer the possibility of comparing the results of different executions and methods altogether. In conclusion, a web application that allows the study of different optimization methods has been accomplished. In addition, it enables to execute these algorithms with different minimization functions, also being able to see the behavior of each of these methods populations graphically, which will allow users with both wide or narrow knowledge of these methods understand how they work after modifying the various parameters that define such behavior.
Description
Proyecto de Sistemas Informáticos (Facultad de Informática, Curso 2013-2014)
Collections