Publication:
Desarrollo de estrategias terapéuticas basadas en cannabinoides para el tratamiento de la Esclerosis Lateral Amiotrófica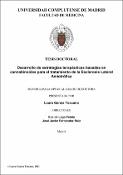 Files
Authors
Advisors (or tutors)
Editors
Publisher
Universidad Complutense de Madrid
Abstract
Con el aumento de la calidad de vida y el avance de la investigación biomédica, la esperanza de vida en los países industrializados se ha multiplicado en las últimas décadas. Sin embargo, un aumento en la esperanza de vida no implica obligatoriamente la adición de años de vida saludables. En consecuencia, se ha incrementado el impacto de las Enfermedades Neurodegenerativas (END) en estas sociedades cada vez más envejecidas, motivo por el cual las END actualmente son consideradas uno de los principales problemas sanitarios a nivel global. En particular, la Esclerosis Lateral Amiotrófica es una END altamente incapacitante, lo que implica gran impacto socioeconómico y sanitario. La ELA es una enfermedad que cursa con la degeneración progresiva de las motoneuronas (MNs) que integran el Sistema Nervioso Central (SNC), ya sea en la corteza cerebral (neuronas motoras superiores), como en la médula espinal (neuronas motoras inferiores). Esta neurodegeneración conduce a una pérdida en la comunicación entre la MN y el músculo esquelético, provocando, en consecuencia, debilidad muscular, calambres, espasticidad, atrofia y en último término parálisis muscular. En etapas avanzadas de la enfermedad se produce un fallo en la musculatura bulbar responsable la comunicación oral, deglución y expectoración, y finalmente los pacientes fallecen de fallo respiratorio letal. Esta enfermedad típicamente se inicia a nivel espinal, con la aparición de los primeros signos y síntomas en las extremidades; sin embargo, alrededor del 20% de los casos diagnosticados tienen un inicio a nivel de las MNs superiores corticales, lo que desencadena alteraciones tempranas en el habla, y la capacidad de comer o respirar con normalidad. Este tipo de debut se denomina ELA de inicio bulbar, y presenta peor pronóstico clínico que la ELA de inicio espinal. Actualmente, la esperanza de vida de los pacientes se encuentra entre los 3-5 años. La incidencia de esta enfermedad se encuentra en torno a 1.75 casos por cada 100.000 habitantes, mientras que su prevalencia oscila entre los 2 y 5 casos por cada 100.000 habitantes. A pesar de su incidencia elevada, debido a su baja tasa de supervivencia, es considerada una enfermedad de baja prevalencia...
Owing to the increase in life quality and the advances in biomedical research, life expectancy in industrialized countries has multiplied in recent decades. However, extending life expectancy does not necessarily imply the addition of healthy life years. As a result, there is an increase in Neurodegenerative Diseases (ND) due to increasingly aging societies. For this reason, ND are now considered one of the main health problems worldwide. Specifically, Amyotrophic Lateral Sclerosis (ALS) is a highly disabling ND, which implies a great socioeconomic and health impact. ALS is a progressive and disabling disease characterized by the progressive loss of upper cortical and lower spinal motor neurons (MN) in the Central Nervous System. Due to neurodegeneration, there is muscle denervation leading to weakness, cramps, spasticity, atrophy, and, finally paralysis. In advanced stages of the disease, a failure in the bulbar muscles responsible for oral communication, swallowing, and/or expectoration occurs, and patients die because of a lethal respiratory failure. This disease typically begins at the spinal level, with the appearance of the first signs and symptoms in the limbs; however, about 20% of the diagnosed cases have an onset at the upper cortical motor neurons, triggering early alterations in speech, and the ability to eat or breathe normally. This type of ALS is called bulbar-onset and has a worse clinical prognosis than spinal-onset. Currently, the life expectancy of patients is between 2-5 years. The incidence of this disease is around 1.75 cases per 100,000 inhabitants, although due to its low survival rate, it is considered a low prevalence disease...
Description
Tesis inédita de la Universidad Complutense de Madrid, Facultad de Medicina, Departamento de Bioquímica y Biología Molecular, leída el 25/01/2021
Collections