Publication:
Innovaciones tecnológicas en el tratamiento del cáncer cerebral: nanomedicina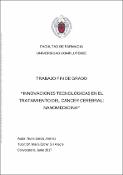 Authors
Advisors (or tutors)
Editors
Abstract
Introducción: El cáncer es una de las principales causas de muerte en el mundo, siendo el cerebral uno de los tumores más mortales, ya sea de forma primaria o como tumor metastásico. Objetivos: Revisar la bibliografía sobre el cáncer cerebral y describir la aplicación de la nanomedicina como innovación tecnológica de interés terapéutico para dicho cáncer. Metodología: Para dar respuesta a los objetivos se ha desarrollado un estudio basado en una revisión sistemática de las innovaciones tecnológicas en el tratamiento del cáncer cerebral. Resultados y discusión: La ausencia de un tratamiento efectivo para el cáncer cerebral motiva a buscar alternativas que permitan obtener una solución para este órgano tan delicado ya que los tratamientos convencionales no consiguen aumentar la supervivencia más allá de los 15 meses. Actualmente, como tratamiento del cáncer cerebral se usa un implante biodegradable de carmustina denominado Gliadel®, que ha de ser colocado mediante cirugía, por lo que su uso está muy limitado. Entre las diferentes investigaciones se encuentra una inyección de microesferas uniformes y biodegradables de carmustina directamente en el espacio intracraneal, así se consigue la vehiculización del fármaco antitumoral y su liberación específica gracias a una vectorización pasiva, debido que se aprovechan las características fisiopatológicas del tumor. Conclusiones: A la vista de los resultados, se observa la necesidad de encontrar un tratamiento que se adecue a cada individuo para poder aumentar la supervivencia en pacientes con este tipo de tumor, ya sea de tipo primario o metastásico.
Introduction: Cancer is one of the leading causes of death in the world. Brain cancer is one of the deadliest tumors, acting either as a primary or as a metastatic tumor. Objectives: Review the literature on brain cancer and describe the application of nanomedicine as a technological innovation of therapeutic interest for this cancer. Methodology: Study based on a systematic review of technological innovations in the treatment of brain cancer. Results and discussion: The absence of an effective treatment for brain cancer motivates the search for alternatives to obtain a solution for this delicate organ since conventional treatments cannot extend survival beyond 15 months. Currently, a biodegradable carmustine implant called Gliadel®, which must be surgically placed, is used as a treatment for brain cancer. Therefore, its usage is very limited. Among the different investigations, there exists an injection of uniform and biodegradable microspheres of carmustine directly into the intracranial space. It achieves the transmission of the antitumor drug and its specific release through a passive vectorization because it takes advantage of the pathophysiological characteristics of the tumor. Conclusions: In view of the results, the need to find a treatment that suits each individual specifically is paramount in order to increase the survival rates of patients with a primary or metastatic brain tumor.