Publication:
Feline degenerative joint disease: studies of prevalence, etiology and diagnosis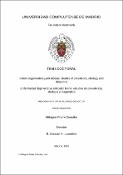 Files
Authors
Advisors (or tutors)
Editors
Publisher
Universidad Complutense de Madrid
Abstract
La tesis detallada en este documento está dividida en cuatro secciones que corresponden con artículos publicados en diferentes revistas de difusión veterinaria. En conjunto estos estudios tienen como objetivo general profundizar en el mejor conocimiento de la patología articular en gatos domésticos, en concreto, avanzar en los conocimientos acerca de la prevalencia, etiología y diagnóstico de esta enfermedad. El primer estudio incluido en esta tesis se diseñó para determinar la prevalencia de la presencia de signos radiológicos indicativos de enfermedad articular degenerativa en una población de gatos seleccionados aleatoriamente. El estudio fue diseñado como un estudio prospectivo observacional. Los animales incluidos fueron 100 gatos domésticos con dueño, seleccionados de la base de datos de una clínica veterinaria felina local, y fueron equitativamente distribuidos en cuatro grupos de edades (0-5, 5-10, 10-15 y de 15 a 20 años de edad). Estos animales fueron seleccionados aleatoriamente de la base de datos (independientemente de su estado de salud en el momento de la realización del estudio) y durante su visita al hospital fueron sedados para realizar el estudio radiológico de todas las articulaciones apendiculares y la columna vertebral. La información generada se analizó por medio de un test de regresión Quasi- Poisson para investigar la relación entre los datos demográficos de la población, los valores de la analítica sanguínea (hematológicos y bioquímicos) análisis de orina y la severidad de la enfermedad degenerativa articular presente. Los resultados más destacables fueron que la mayoría de los gatos (92%) presentaron evidencia radiológica de enfermedad articular degenerativa; el 91% presentaban al menos una articulación apendicular afectada de enfermedad articular degenerativa y el 55% presentaba una o más regiones de la columna vertebral con signos radiológicos indicativos de esta enfermedad...
The detailed herein thesis is divided into four sections that correspond to manuscripts published in different journals of veterinary diffusion. Together these studies' general aim is to deepen the knowledge of joint disease in domestic cats, in particular, improve what we know about the prevalence, etiology, and diagnosis of this disease. The first study described this thesis was designed to determine the prevalence of radiographic signs of degenerative joint disease (DJD) in a randomly selected sample of domestic cats. The study was designed as a prospective observational study. One hundred clientowned cats from a single feline only veterinary practice and equally distributed across 4 age groups (0-5, 5-10, 10-15, and 15-20 years old) were randomly selected (regardless of health status) and sedated for orthogonal radiographic projections of all joints and the spine. Quasi- Poisson regression analysis was used to investigate the relationship between patient demographics, blood biochemistry, hematologic and urine analysis variables, and DJD severity. The most significant results were that the majority of cats (92%) had radiographic evidence of DJD; 91% of animals had at least one site of appendicular DJD and 55% had one or more sites of the axial column affected with DJD. Affected joints in descending order of frequency were hip, stifle, tarsus and elbow. The thoracic segment of the spine was more frequently affected than the lumbosacral segment. Although many variables were significantly associated with DJD, when variables were combined, only the association between age and DJD was significant (P < .0001). For each 1-year increase in cat age, the expected total DJD score increases by an estimated 13.6% (95% confidence interval: 10.6%, 16.8%)...
Description
Tesis inédita de la Universidad Complutense de Madrid, Facultad de Veterinaria, leída el 30/06/2014. Tesis formato europeo (compendio de artículos).
Collections