Publication:
I golosi: el contrapasso y los sentidos en el "Purgatorio" dantesco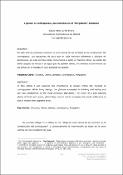 Advisors (or tutors)
Publisher
Universidad Complutense de Madrid, Servicio de Publicaciones
Abstract
En este artículo podemos observar la importancia de los sentidos en la construcción del "contrapasso". Los pecadores de gula que en vida tomaron alimentos y bebidas en desmesura, en esta cornisa están condenados a sufrir un hambre atroz. La visión del árbol cargado de frutos y de agua que no pueden tomar, incrementa el sufrimiento de las almas en la medida en que aumenta su apetito.
In this article I will examine the importance of senses within the concept of "contrappasso". While living beings, the gluttons exceeded in drinking and eating and are now condemned to the most atrocious starvation. The vision of a tree bearing plenty of fruits and water, which they cannot reach, increases the souls' sufferance in that it makes their appetite grow.
Collections