Publication:
Una mirada antropológica sobre el conflicto, la desigualdad y los procesos de reinserción social en Colombia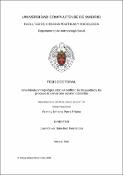 Files
Authors
Advisors (or tutors)
Editors
Publisher
Universidad Complutense de Madrid
Abstract
For more than half of a century, Colombia has been living in a state of violence, a nationwide political violence. As the time goes by, this situation gets even worse. Now the violence is implanted for different interests, such as personal, political, social and economical interests. For this reason, the information for this thesis was gathered from the time of the independence, through the era of violence until today; considering a reflection that begins with the perspective of Marx, passing by a theoretical compilation of the conflict, with an anthropological, psychological, biological and sociological perspective. In addition, different theories about violence have been studied to recognize the ideological approach of the different armed movements that have emerged in Colombia. Statistical, economical and social data including class struggle, social stratification, exclusion and gender perspective among others, have been considered from an anthropological and interdisciplinary approach for studying the violence. A strong interest in the social reintegration process, through an ethnographic study, based on the actors backgrounds, their lives, experiences and their geographical location have provided information that will allow to know the reality of those who are living in the process, those who survive it and those who go on with their lives in society, and those who after doing it return to the armed groups. Population displaced by violence, refugees, has contributed to this study about their possibilities to return to the society or to be excluded by it. With this purpose, a theoretical and a documentary analysis as well as fieldwork have been done, trying to bring forward tools and guidelines to make some progress in developing effective solutions for social integration of Colombian armed conflict victims.
Description
NOTA 502 Tesis inédita de la Universidad Complutense de Madrid, Facultad de Ciencias Políticas y Sociología, Departamento de Antropología Social, leída el 04-12-2015
Collections