Publication:
Populismo, un análisis histórico y comparado de Argentina, Brasil y Venezuela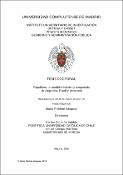 Files
Authors
Advisors (or tutors)
Editors
Publisher
Universidad Complutense de Madrid
Abstract
El fenómeno del populismo ha sido muy difícil de abordar. Sin embargo, desde una perspectiva académica, el populismo puede ser analizado bajo dos criterios principales. Por un lado, en el ámbito histórico-geográfico, es posible identificar diferentes tipos de populismo tales como: el populismo ruso o Naródnichestvo; el people's party en EE.UU.; el populismo latinoamericano que emerge en la primera mitad del siglo XX y se extiende hasta nuestros días; y el denominado neopopulismo que comienza a multiplicarse incipientemente en Europa en los años setenta. También, cabe señalar que es posible encontrar otras manifestaciones de populismo en África y en el Este de Europa. Por otro lado, en el ámbito epistemológico, se encuentra el enfoque estructural que entiende al populismo como un fenómeno que hace frente a la exclusión social de ciertos países periféricos como los latinoamericanos; también surgió un enfoque exclusivamente económico que asocia al populismo con un gasto público excesivo; asimismo, se lo ha considerado como un fenómeno sustentado en un líder carismático con amplio apoyo social, pero que ejecuta políticas neoliberales. Pero también el populismo ha sido entendido como una organización partidista o como un estilo político. Otro enfoque epistemológico entiende al populismo no como una estructura, sino como un tipo de discurso, por lo tanto, se lo ha concebido como una ideología e inclusive como un síndrome. Actualmente, existen tres principales tendencias de investigación al respecto: la teoría posmarxista, un enfoque cuantitativo de conteo de palabras, y un enfoque híbrido que combina criterios cualitativos de análisis de discurso con otros cuantitativos...
The phenomenon of populism is very difficult to grasp. However, in an academic sense, populism can be classified into two main criteria. In the historical-geographical field, it is possible to identify different categories of populism such as: the Russian agricultural populism of nardonik intellectuals; the farmers and people's party in USA; the Latin American populism that arose in the middle of the 20th Century and endures to the present time; and the so called neopopulism which started in Europe in the seventies. Also another regional populism can be found in Eastern Europe and Africa. In the epistemological field, populism has been studied from different perspectives, and one of these is the structuralist one. Mainly developed for Latin American cases, in this perspective, populism is associated with the development of some countries that live in a state of social exclusion. Another is an exclusively economic approach which is focused on excessive public expenditure and finding monetarist solutions to social problems. There are also political approaches that have a charismatic leader with broad social support as a central figure whose main characteristic is the use of neoliberal policies. It is possible to recognize as well other approaches in which populism is seen as party organization; or as a political style, among others. Another epistemological approach asserts that populism is not a structure, but a discourse. Thus, populism has been understood as an ideology or even as a syndrome. Nowadays three main strands of research can be identified: post-Marxist theory, quantitative approach, and a hybrid analysis that combines quantitative criteria with a qualitative discourse analysis...
Description
Tesis inédita de la Universidad Complutense de Madrid, Facultad de Ciencias Políticas y Sociología, leída el 03-02-2016
Collections