Publication:
Diferencias en la expresión de mediadores inflamatorios, niveles de Glicocálix y perfiles de MicroRNA en páncreas humanos de donantes en parada cardiaca no controlada y donantes en muerte encefálica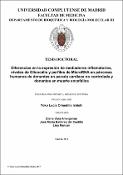 Authors
Advisors (or tutors)
Editors
Publisher
Universidad Complutense de Madrid
Abstract
La diabetes mellitus tiene importantes implicaciones a nivel médico y socioeconómico. Las limitaciones en su tratamiento impulsan el desarrollo de terapias orientadas a la curación de la misma. El trasplante de páncreas, tanto completo como de islotes, representa una alternativa al abordaje con insulina. Sin embargo, la escasa disponibilidad de órganos susceptibles de donación en muerte encefálica (brain-dead donation; BDD) limita su aplicabilidad. Así, la donación en parada cardiaca no controlada (uncontrolled non-heart-beating donation; UNHBD) se ha postulado como una alternativa válida. No obstante, poco se conoce sobre el estado tisular real de los órganos así obtenidos. La UNHBD se realiza bajo condiciones desfavorables e implica una exposición de los injertos a estímulos dañinos desencadenantes de respuestas inflamatorias, estrés oxidativo y fenómenos de apoptosis. Esto explicaría las tasas mayores de disfunción primaria del injerto tradicionalmente observadas en la UNHBD. Hipótesis: Existen diferencias en la expresión de los marcadores biomoleculares del estado tisular en los páncreas humanos obtenidos de la UNHBD, en comparación con los obtenidos de la BDD, considerada de referencia. La investigación acerca de tales diferencias avalaría la viabilidad de los páncreas de la UNHBD, y en consecuencia su utilización a nivel clínico. Objetivos: Objetivo general. Evaluar a nivel biomolecular la viabilidad de los páncreas humanos obtenidos de la UNHBD frente a los obtenidos de la BDD. Objetivos específicos. Evaluar la expresión diferencial en las biopsias de páncreasobtenidos de UNHBD y BDD, de: mediadores inflamatorios, marcadores de estrés oxidativo, marcadores de apoptosis, perfiles de miRNAs, y componentes del glicocálix...
Diabetes mellitus has vast medical and socio-economical implications. Its treatment's limitations prompt the development of new possible therapies oriented towards its cure. Both whole-organ and represent an alternative besides management with insulin. However, its applicability is limited by the scarcity of available organs for brain-dead donation (BDD). Therefore, uncontrolled non-heart-beating donnation (UNHBD) could represent a major opportunity to solve organs' shortage. Even so, little is known about the status of pancreas obtained from this type of donors. UNHBD is performed under unfavorable conditions and involves exposure to harmful stimuli that trigger inflammatory responses, oxidative stress, and apoptotic phenomena. This adverse scenario could explain the higher rates of graft dysfunction, due to primary non-function, traditionally observed in NHBD. Hypothesis: The expression of tissue status biomolecular markers in human pancreata obtained from UNHBD can be different if compared to those from BDD, considered as the gold standard. Basic research on these differences would endorse UNHBD pancreata's viability,and accordingly, it would open the possibility to take them into consideration for clinical use. Objectives: General objective. To evaluate the biomolecular viability of human pancreata obtained from UNHBDs, compared to those from BDDs. Specific objectives. To assess the differential expression in pancreas' biopsies obtained from UNHBDs and BDDs, of: inflammatory mediators, oxidative stress markers, apoptosis markers, miRNAs profiles and glycocalyx components...
Description
Tesis de la Universidad Complutense de Madrid, Facultad de Medicina, Departamento de Bioquímica y Biología Molecular III, leída el 24/05/2017
Collections