Publication:
Pervivencia de los remedios vegetales tradicionales americanos en la terapéutica española actual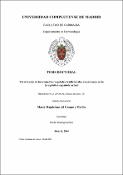 Files
Advisors (or tutors)
Editors
Publisher
Universidad Complutense de Madrid
Abstract
El interés por las plantas medicinales y su uso se ha extendido por todo el mundo. El desarrollo tecnológico ha modificado sustancialmente su estudio. En la actualidad cientos de plantas son investigadas por la ciencia moderna para precisar, comparar y clasificar sus diversas propiedades con el fin de conocer los principios activos responsables de aliviar o curar enfermedades.Esta tesis doctoral profundiza en el estudio de plantas originarias de América y traídas a Europa por las expediciones que abarcan los siglos del XV al XVIII. Además, se centra en saber qué plantas de aquella época aún se siguen cultivando y de qué forma se utilizan a día de hoy, en conocer su composición química, sus usos terapéuticos y actividad farmacológica. Se pretende conocer si se siguen utilizando con los mismos usos tradicionales que en la antigüedad y qué tipo de estudios científicos tienen hasta la fecha. Se ha hecho una exhaustiva búsqueda bibliográfica de cada una de las plantas elegidas. En aquellas que se han encontrado en el comercio y/o en su medio natural, se ha realizado un análisis físico-químico, caracterización y análisis microscópico para establecer sus elementos y contenidos celulares, necesarios para el diagnóstico de esas especies vegetales. Las plantas elegidas son: Pistacia lentiscus L., Hibiscus abelmoschus L., Haematoxylon campechianum L., Flaveria bidentis L., Callophyllum antillanum Britt., Guaiacum sanctum L., Lobelia inflata L., Cimifuga racemosa L. Smilax aspera L., Krameria trianda Ruíz & Pav., Zea mays L., Hamamelis virginiana L. y Peumus boldus Mol. Se han realizado encuestas sencillas para saber el grado de conocimiento de la población acerca de estas plantas y el uso que hacen de ellas, teniendo en cuenta la nacionalidad de los encuestados. Todas las plantas y los datos recogidos sobre ellas documentan la existencia de las especies en el tiempo y en el espacio. Se han establecido estrategias para el reconocimiento y entendimiento de sus usos actuales y a lo largo de la Historia desde su descubrimiento. Aunque se partía de un conjunto de plantas bastante conocidas en la época de las expediciones, la mayoría no ha sido posible encontrarlas en España, actualmente, en ningún medio; ni en el comercio, ni de forma natural. Del imaginario o real de plantas americanas que se trajeron a Europa, su uso ha quedado extinto en gran parte. Algunas de ellas, aunque no estén en el mercado como tales, forman parte de los componentes de algunos medicamentos comercializados en España. Se ha diseñado una monografía de cada planta haciendo hincapié en sus propiedades y sus usos tradicionales, aunque no estén totalmente demostrados, pero basándonos principalmente en reseñas históricas, previamente documentadas. Como conclusión final se deduce que aunque las plantas de las expediciones de origen americano tuvieron éxito como remedios vegetales tradicionales en el mundo europeo anterior a la segunda mitad del siglo XIX, los avances tecnológicos y farmacológicos han llevado a su práctica desaparición en la terapéutica de nuestros días. [ABSTRACT]In the last decades the use of natural resources has increased. Plants are being used for several applications like food and to mitigate or cure diseases. Actually, there are great amount of medicinal plants in the market, some of them, with no specific control. This has caused to rise consumption in the general population. It is necessary to check the effectiveness of the plants based on studies of their origin, use, activity, purity and quality for human use with scientific backing. This doctoral thesis is based on the study of several plants originated from America and brought to Europe by the expeditions from XV to XVIII centuries. Scientific and naturalistic trips collected them and gathered important observations from the population, social life and customs, geography, agriculture and economy of the places where they visited. Previously, it has been made an extensive bibliographic search on each one of selected plants based on a physico-chemical analysis, characterization and microscopic analysis for establishing its cellular contents and elements for the diagnosis of each plant. Simultaneously, it has done a chromatographic screening to find the different active principles responsible for some of the pharmacological properties and traditional uses. Moreover we have designed a simple poll to find out the level of knowledge and use of those plants by the general population and emphasizing the immigrant population from Latin America. We started from a collection of known plants: Pistacia lentiscus L., Hibiscus abelmoschus L., Haematoxylon campechianum L., Flaveria bidentis L., Callophyllum antillanum Britt., Guaiacum sanctum L., Lobelia inflata L., Cimifuga racemosa L. Smilax aspera L., Krameria trianda Ruíz & Pav., Zea mays L., Hamamelis virginiana L. and Peumus boldus Mol. It has been done a common schema to design a monograph of each plant with its traditional uses and properties, but not fully proven. It is based on historical accounts, previously documented. It has gone in depth into the study of those plants found in the natural environment or in trade, highlighting the traditional use attributed to them, relating to their chemical composition and verifying in the laboratory microscopic elements and content, the active principles and corroborating with scientific literature documents the way in which these components act in the body. The polls have allowed to know if the general population knows and uses these plants with therapeutic uses scientifically attributed to them or if they continue to use them for folk wisdom.
Description
Tesis inédita de la Universidad Complutense de Madrid, Facultad de Farmacia, Departamento de Farmacología, leída el 16-12-2013
Collections