Publication:
Neuromodulación de los circuitos de los ganglios basales y elección de dianas individualizadas en la estimulación cerebral profunda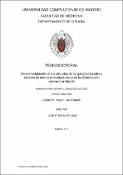 Files
Authors
Advisors (or tutors)
Editors
Publisher
Universidad Complutense de Madrid
Abstract
Se incluyeron 22 pacientes operados de ECP en nuestro centro de 2011 a 2014. Los diagnósticos incluyen enfermedad de Parkinson (EP), temblor esencial (TE) y trastorno obsesivo-compulsivo (TOC). En la sección 1, se realiza un estudio prospectivo en 2 pacientes con TOC con varias combinaciones de estimulación entre el núcleo subtalámico (NST) y el núcleo accumbens (Nacc) combinando los lados de estimulación con el fin de definir la combinación adecuada para el control de síntomas. En la sección 2, se utilizaron las pruebas de imagen de 20 pacientes para desarrollar el método de parcelación de los ganglios basales con el fin de individualizar la diana anatómica para cada paciente. En la sección 3, los pacientes con TOC se sometieron a una RM funcional (RMf) con provocación de síntomas para identificar las zonas hiperactivas en estos pacientes y compararlo con las zonas cerebrales influenciadas por el volumen de tejido activado (VTA) del electrodo. En la sección 4, comparamos nuestro método de individualización anatómica de dianas de ECP con los métodos basados en los atlas estereotácticos en un grupo de pacientes con trastornos del movimiento. Finalmente en la sección 5, realizamos un estudio de correlación entre el área de solapamiento entre el VTA y las dianas obtenidas por nuestro método de parcelación con el fin de definir si existe relación con la mejoría clínica de los pacientes...
22 patients undergoing ECP in our center from 2011 to 2014 were included. The diagnoses include Parkinson's disease (PD), essential tremor (ET) and obsessive-compulsive disorder (OCD). In Section 1, a prospective study was performed in 2 patients with OCD with various combinations of stimulation between the subthalamic nucleus (STN) and nucleus accumbens (Nacc) combining the sides of stimulation in order to identify the appropriate combination of stimulating electrodes for control symptoms. In section 2, the images of 20 patients were used to develop the method of parcellation of the basal ganglia in order to identify the anatomical target for each patient. In section 3, OCD patients underwent functional MRI (fMRI) with symptom provocation to identify hyperactive areas in these patients and these areas were compared with the brain areas influenced by the volume of tissue activated (VTA) of the electrode. In section 4, we compared our method of anatomical identification of ECP targets with the method based in stereotactic atlas in a group of patients with movement disorders. Finally, section 5, we conducted a study of correlation between the area of overlap between the VTA and the target obtained by our method in order to define a possible relationship with clinical improvement of patients...
Description
Tesis inédita de la Universidad Complutense de Madrid, Facultad de Medicina, Departamento de Cirugía, leída el 05/02/2016
Collections