Publication:
When Ostrom Meets Blockchain: Exploring the Potentials of Blockchain for Commons Governance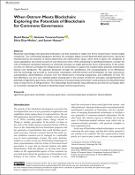 Advisors (or tutors)
Editors
Abstract
Blockchain technologies have generated enthusiasm, yet their potential to enable new forms of governance remains largely unexplored. Two confronting standpoints dominate the emergent debate around blockchain-based governance: discourses characterized by the presence of techno-determinist and market-driven values, which tend to ignore the complexity of social organization; and critical accounts of such discourses which, while contributing to identifying limitations, consider the role of traditional centralized institutions as inherently necessary to enable democratic forms of governance. In this article, we draw on Ostrom's principles for self-governance of communities to explore the transformative potential of blockchain beyond such standpoints. We approach blockchain through the identification and conceptualization of six affordances that this technology may provide to communities: tokenization, self-enforcement and formalization of rules, autonomous automatization, decentralization of power over the infrastructure, increasing transparency, and codification of trust. For each affordance, we carry out a detailed analysis situating each in the context of Ostrom's principles, considering both the potentials of algorithmic governance and the importance of incorporating communities' social practices into blockchain-based tools to foster forms of self-governance. The relationships found between these affordances and Ostrom's principles allow us to provide a perspective focused on blockchain-based commons governance.
Collections