Publication:
Colaboración entre conservador es restauradores y oficios. Objetivo: la preservación del Patrimonio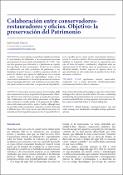 Authors
Advisors (or tutors)
Editors
Publisher
Grupo Español de Conservación del International Institute for Conservation, Asociación de Conservadores Restauradores de España
Abstract
Los conservadores-restauradores titulados garantizan el conocimiento, las habilidades y las competencias necesarias para garantizar la preservación del patrimonio (E.C.C.O.). Aún con estas premisas, para intervenir en el patrimonio se requiere del expertizaje de otros profesionales. Si bien no se cuestiona la colaboración con otras profesiones del patrimonio o con disciplinas de perfil técnico o científico, queremos abordar el punto de inflexión que supone la colaboración con artesanos y oficios. Aunque existen las especialidades dentro de la conservación-restauración, es frecuente que nos encontremos con obras de tipologías diferentes. Aún, tratándose de un especialista, éste puede conocer los materiales y sus procesos de degradación, pero es posible que no cuente con los conocimientos técnicos o pericia en esa técnica artística. Por los conocimientos adquiridos mediante la formación oficial, tenemos la capacitación para estar al frente del equipo, coordinando y dirigiendo todas sus intervenciones. En los últimos años nos encontramos con una dificultad añadida, localizar expertos en algunos oficios ya que actualmente se está produciendo la pérdida de los oficios artesanales y artísticos.
Conservators-restorers possess the knowledge, skills and competencies necessary to guarantee the preservation of heritage (ECCO). Even with these premises we need other professionals. Collaboration with other heritage professions or disciplines with a technical or scientiic proile is not questioned, but collaboration with artisans and crats is a point of conlict. Although there are specialties within conservation-restoration, we oten ind works of diferent types. Still, in the case of a specialist, he may know the materials and their degradation processes, but it is possible that he does not have the technical knowledge or expertise in that artistic technique. Our role is to be at the head of the team, coordinating and directing all your interventions. In recent years we have encountered an added diiculty, locating experts in some trades since the loss of artisan and artistic trades is currently taking place.
Collections