Publication:
Cartel ruso-soviético en el periodo leninista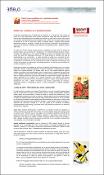 Authors
Advisors (or tutors)
Editors
Publisher
Universidad Complutense de Madrid
Abstract
Los avances en comunicación y estética del cartel en el periodo leninista influyó de gran manera en el desarrollo de las artes plásticas y la comunicación política. En este artículo se realiza un análisis desde los puntos de vista de las artes y, fundamentalmente, de la propaganda política.
The advances in communication and aesthetics of the poster in the Leninist period greatly influenced the development of the plastic arts and political communication. This article makes a research from the point of view of the arts and, fundamentally, of political propaganda.
Description
El artículo fue publicado en la revista Arte2o y citado varias veces. La revista desapareció y, al ser digital, se pedieron los artículos. Por ello se publica el pdf original en eprints.
UCM subjects
Guerra
,
Partidos y grupos políticos
,
Antropología (Sociología)
,
Cultura popular
,
Comunicación audiovisual
,
Diseño gráfico (Ciencias de la Información)
,
Publicidad
,
Relaciones públicas
,
Arte s. XIX-XX
,
Movimientos artísticos
,
Pintura (Historia del Arte)
,
Estética (Bellas Artes)
,
Grabado
,
Iconografía
,
Pintura (Bellas Artes)
,
Crítica de arte
Unesco subjects
5103.05 Guerra
,
5905.06 Partidos Políticos
,
51 Antropología
,
5101 Antropología Cultural
,
6114.01 Publicidad
,
5506.02-1 Historia del Arte. Siglos XIX - XX
,
5506.02 Historia del Arte
,
6203.05 Estética de las Bellas Artes
,
6203.04 Dibujo, Grabado
,
5505.05 Iconografía
,
6203.07 Pintura
,
6203 Teoría, Análisis y Critica de las Bellas Artes
Collections