Publication:
La romanización del Occidente Cantábrico: de la violencia física a la violencia simbólica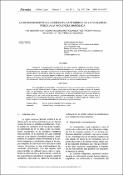 Advisors (or tutors)
Editors
Publisher
Museo de Prehistoria e Arqueoloxía de Vilalba
Abstract
Partimos de la caracterización sociocultural de los grupos castreños cantábricos como paso indispensable para comprender el sentido histórico profundo del potente cambio cultural que supuso la conquista militar del extremo norte peninsular y su inserción en el sistema imperial romano. Nuevos datos arqueológicos nos permiten discutir la información sobre las operaciones armadas de conquista que nos ofrecían las fuentes clásicas y comprender qué papeles jugaron los diferentes grupos (meseteños y cantábricos, principalmente) en aquella. Una relectura de la información arqueológica nos permitirá entender los diferentes tipos y resistencias a la romanización, básicamente uno asociado a la minería del oro y otro a un paisaje agrario. [ABSTRACT]The sociocultural characterization of Cantabrian Iron Age communities is as an essential step to un-derstand the deep historical sense of cultural change that occured after the military conquest of Northern Spain, and its integration into the Roman imperial system. New archaeological data allow us to discuss the view on military operations that classical sources offered us. We will understand what roles were played by different groups –of Central Iberia and Western Cantabrian Mountains, primarily– in that conquest. Also, a reading of the archaeological information will help us to understand the different types of resistance to the Roman, basi-cally one associated with gold mining and other to agrarian landscape.
Collections