Publication:
El terrorismo yihadista. Aproximación ideológica, filosófica, sociológica, criminológica y jurídica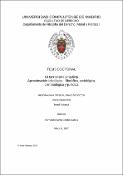 Files
Authors
Advisors (or tutors)
Editors
Publisher
Universidad Complutense de Madrid
Abstract
Creemos en la importancia del tema elegido, no sólo por ser un asunto de actualidad que preocupa y desasosiega políticamente, sino porque es un problema que alcanza dimensiones internacionales y no afecta únicamente a España. La investigación en este aspecto, no sólo es compleja, sino también curiosa, provocativa y emocionante. La presente tesis doctoral pretende escudriñar un fenómeno tan controvertido como es el "TERRORISMO YIHADISTA" con el objetivo de intentar dar respuesta a los interrogantes suscitados acerca de los fundamentos, la génesis y el desarrollo histórico del yihadismo. Y todo ello a través de una aproximación ideológica, filosófica, sociológica, criminológica y jurídica. Al Qaeda y Estado Islámico han supuesto un rotundo antes y después en la política internacional de los Estados, así como en sus respectivos ordenamientos jurídicos. Antes de hablar del terrorismo yihadista, el cual se inspira en la doctrina salafista, es primordial ubicar el fenómeno en su contexto conceptual desde una perspectiva ideológica y cultural del fenómeno. El salafismo wahabí, basado en una radical y ortodoxa interpretación de la ideología islamista, representa una cuestión fundamental para una posible explicación del terrorismo yihadista. Por ello, este trabajo pretende analiza a fondo esta dogmática doctrina del Islam...
We believe in the releavance of the chosen theme, not only as a current issue that worries and disturbs on a political level, but because it is a problem that reaches an international dimension and is not confined to Spain only. Research in this area is not only complex, but also curious, provocative and exciting. This thesis aims to scrutinize such a controversial topic as "jihadist terrorism" in order to try to answer the questions raised about the basics, the genesis and historical development of jihadism phenomenon. All this is to be conducted through an ideological, philosophical, sociological, criminological and legal approach. Al Qaeda and Islamic State have been a resounding turning point in international politics of different States, as well as their legal systems. Before speaking about jihadist terrorism, which is inspired by the Salafi doctrine, it is essential to place the phenomenon in its conceptual context from an ideological and cultural perspective. The Wahhabi Salafism, based on a radical and orthodox interpretation of Islamist ideology, is a key issue for a possible explanation of jihadist terrorism. Therefore, this work aims to analyze in depth this dogmatic doctrine of Islam...
Description
Tesis inédita de la Universidad Complutense de Madrid, Facultad de Derecho, Departamento de Filosofía del Derecho, Moral y Política I, leída el 26-01-2016
Collections