Publication:
Calidad institucional y cohesión social: El corrosivo efecto de la desigualdad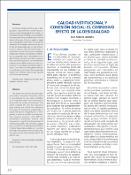 Advisors (or tutors)
Editors
Publisher
Fundación de las Cajas de Ahorros (Funcas)
Abstract
El artículo persigue mostrar que la desigualdad, especialmente cuando afecta a grupos sociales (desigualdad horizontal) y se acompaña de baja movilidad social, constituye un importante factor que deteriora la calidad de las instituciones. Para ello, analiza el papel que la desigualdad tiene entre los criterios de evaluación de la calidad institucional y discute el tipo de desigualdad que es más relevante por su impacto sobre las instituciones. A través del recurso a dos ejercicios empíricos, empleando métodos econométricos diferentes, se comprueba que la desigualdad es un determinante relevante (con signo negativo) de la calidad institucional. Las estimaciones sugieren que es difícil construir buenas instituciones en sociedades altamente fragmentadas, con niveles de desigualdad elevado y cronificado en el tiempo. Esos resultados inspiran una reflexión sobre el caso español en los años más recientes.
The article aims to show that inequality, particularly horizontal inequality when is accompanied by low social mobility, is an important factor that contribute to deteriorate the quality of institution. The article analyses the role that inequality plays among the criteria for evaluating the quality of institutions; additionally, it argues the type of inequality that is more relevant in terms of its effect on institutions. Two empirical exercises, with different econometric procedures, confirm that inequality is a significant determinant of institutional quality. The estimates suggest that it is difficult to build good institutions in highly fragmented societies or in countries with high and sustained levels of inequality. The results inspire some thoughts about the Spanish case.
Collections