Publication:
Resultados sobre determinación de grupos por su orden y el de sus elementos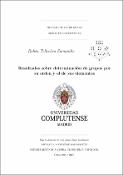 Advisors (or tutors)
Editors
Abstract
En este trabajo determinamos los posibles grupos a los que un grupo puede ser isomorfo una vez se ha fijado su orden o especificado el de alguno de sus elementos, haciendo uso de métodos elementales de teoría de grupos en el manejo de tres herramientas: el producto semidirecto, las extensiones de grupos y los grupos de automorfismos de algunas de las familias más conocidas. En los primeros tres capítulos expondremos dichas herramientas, y en los siguientes determinamos los grupos de orden p, p2, p3, 2p, 4p, pq y 2k cuando el grupo tiene un elemento de orden k.
In this work we determine possible groups which a group can be isomorphic to, once its order has been fixed or one of its elements specified, using elementary methods of group theory in the management of three tools: semidirect products, group extensions and automorphism groups of some of the best known families. In the first three chapters we will expose these tools, and in the following ones we determine all groups of order p, p2, p3, 2p, 4p, pq and 2k when the group has an element of order k.
Citation
[1] Michael Aschbacher. The status of the clasification of the finite simple groups. Notices of the American Mathematical Society, 51(7):pp. 736-740, 2004. http://www.ams.org/notices/ 200407/fea-aschbacher.pdf. [2] Hans Ulrich Besche Bettina Eick and Eamonn A. O'Brien. A millennium project: constructing small groups. International Journal of Algebra and Computation, 12(5):pp. 626- 644, 2002. http://citeseerx.ist.psu.edu/viewdoc/download?doi=10.1.1.9.8357&rep=rep1&type=pdf. [3] Emilio Bujalance, José Javier Etayo, and Ernesto Martínez. Cyclic and dihedral actions on Klein surfaces with 2 boundary components. 2019. Preprint. [4] Julio Castellanos. Estructuras algebraicas. Universidad Complutense de Madrid, 2017. https://www.ucm.es/data/cont/docs/90-2017-09-13-NotasProfesorEA-2017.pdf. [5] Keith Conrad. The Schur Zassenhaus theorem. University of Connecticut. https:// kconrad.math.uconn.edu/blurbs/grouptheory/schurzass.pdf. [6] Daniel Gorenstein. Finite groups. Harper Row, New York, Estados Unidos de América,1968. [7] Daila Silva Seabra de Moura Fonseca. Grupos e seus automorfismos. Universidade Federal de Minas Gerais, Belo Horizonte, Brasil, 2008. [8] Jasha Sommer-Simpson. Automorphism groups for semidirect products of cyclic groups.2013. http://math.uchicago.edu/~may/REU2013/REUPapers/Sommer-Simpson.pdf. [9] John Sullivan. Classification of finite abelian groups. The International Society of the Arts, Mathematics, and Architecture, 2003. http://torus.math.uiuc.edu/jms/m317/handouts/ finabel.pdf.45