Publication:
Distress and Sensitization as Main Mediators of Severity in Women with Fibromyalgia: A Structural Equation Model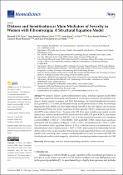 Authors
Valera Calero, Juan Antonio
Fernández de las Peñas, César
Advisors (or tutors)
Editors
Abstract
We aimed to explore a path model identified using a structural equation model (SEM) which best explains the multivariate contributions of sensitization, sensitivity, and emotional variables to clinical severity in women with FMS. Pain features, the Central Sensitization Inventory (CSI), painDETECT, S-LANSS, the Hospital Anxiety and Depression Scale (HADS), the Pittsburgh Sleep Quality Index (PSQI), the Pain Catastrophizing Scale (PCS), the Pain Vigilance and Awareness Questionnaire (PVAQ), the 11-item Tampa Scale for Kinesiophobia (TSK-11), and pressure pain thresholds (PPTs) were collected from 113 women with FMS. Four latent variables were created: severity (clinical pain features), sensitivity (PPTs), sensitization (S-LANSS, CSI, painDETECT), and distress (HADS-A, HADS-D, PCS, PVAQ, TSK-11). Data fit for the measurement model were considered excellent (RMSEA = 0.043, CFI = 0.966, SRMR = 0.067, and NNFI = 0.960). Distress had a significant relationship with the mediators of sleep (β = 0.452, p = 0.031) and sensitization (β = 0.618, p = 0.001). The only mediator with a significant effect (β = 1.113, p < 0.001) on severity was sensitization. A significant indirect effect of sensitization (β = 0.687, p = 0.001) that explained the relationship between distress and severity was also identified. The proposed model suggests that distress and sensitization, together with poor sleep, have a complex mediating effect on severity in women with FMS. The identified path model can be leveraged in clinical trials investigating treatment approaches for FMS.
Collections