Publication:
ETA: Medio siglo de terrorismo. Un recuento estadístico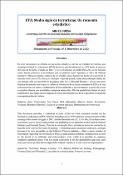 Authors
Advisors (or tutors)
Editors
Abstract
En este documento se efectúa un recuento estadístico de las actividades terroristas que desplegó Euskadi ta Askatasuna (ETA) desde su acto fundacional en 1959 hasta el anuncio del cese de la lucha armada en 2011 y de su disolución en 2018. Para ello, se ha tomado como fuente primaria la Cronología que se publicó como apéndice al libro de Manuel Sánchez y Manuela Simón: Historia de un desafío. Cinco décadas de lucha sin cuartel de la Guardia Civil contra ETA. Dicha Cronología —que ha pasado hasta ahora desapercibida, tal vez porque sólo es accesible en la página web de la Editorial Planeta— ofrece una gran riqueza documental en lo que se refiere al inventario de acciones armadas de ETA y de sus consecuencias, así como a la detención de sus militantes y colaboradores, a partir de la cual es posible ofrecer una estadística completa sobre ellas. Ello ha posibilitado llenar el vacío cuantitativo que, hasta ahora, impedía el conocimiento preciso de la trayectoria violenta de esa organización terrorista.
This document provides a statistical account of the terrorist activities carried out by Euskadi ta Askatasuna (ETA) from its founding in 1959 until the announcement of the cease of the armed struggle in 2011 and its dissolution in 2018. For this, it has taken as primary source the Cronología published as an appendix to the book by Manuel Sánchez and Manuela Simón: Historia de un desafío. Cinco décadas de lucha sin cuartel de la Guardia Civil contra ETA. Said Chronology —that has gone unnoticed until now, perhaps because it is only accessible on the Editorial Planeta's website— which offers a great amount of documents regarding the numbers of ETA's armed actions and their consequences, as well as the arrests of its militants and collaborators, thus allowing to create complete time series. This has made it possible to fill the quantitative gap that, until now, prevented precise knowledge of the violent trajectory of this terrorist organization.
Description
Grupo de Economía del Terrorismo GET. Documento de Trabajo, nº 1. Diciembre de 2022