Publication:
Caracterización dieléctrica de películas delgadas ferroeléctricas (Dielectric charasterizacion in ferroelectric thin films)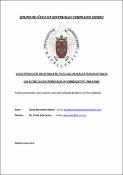 Authors
Advisors (or tutors)
Editors
Abstract
Los materiales ferroeléctricos se caracterizan por retener un dipolo eléctrico permanente en ausencia de campo eléctrico. Debido a esta peculiaridad, los materiales ferroeléctricos podrían ser usados como memorias ferroeléctricas de acceso aleatorio (FERAMs), lo que revolucionaría el almacenamiento de datos en los dispositivos electrónicos. En este trabajo, presentamos un experimento de caracterización de películas delgadas ferroeléctricas de titanato de bario. Utilizando sustratos de titanato de estroncio, hemos crecido 30 nm de manganita de lantano estroncio, que por su carácter metálico sirve como electrodo, y sobre ella películas delgadas de titanato de bario con espesores entre 20nm y 100nm. Utilizando una máscara mecánica se han depositado posteriormente electrodos de platino para la caracterización de sus propiedades ferroeléctricas. Se ha medido la variación con la temperatura de la polarización remanente y del campo coercitivo de muestras con distintos espesores de titanato de bario. Asimismo, se ha estudiado la dinámica de los dominios ferroeléctricos, estimando el tiempo de respuesta de los dominios ferroeléctricos al campo eléctrico en aproximadamente 1ms. [ABSTRACT] The ferroelectric materials retain a permanent electric dipole in the absence of an electric field. Due to this feature, they might be potentially used in ferroelectric random access memory (FERAMs), which could revolutionize the data storage in electronic devices. In this project, we have performed a characterization experiment of ferroelectric barium titanate thin films. We have used strontium titanate substrates where we have grown 30nm thick lanthanum strontium manganite film as metallic electrode for electric measurements, and we have grown on top barium titanate thin films with varying thickness between 20nm and 100nm. Platinum electrodes have been deposited afterwards in order to optimize the ferroelectric characterization of the samples. We have measured the temperature dependence variation of the remanent polarization and of the coercive field, for several samples with different thickness of barium titanate. Furthermore, we have studied the dynamics of ferroelectric domains, estimating the response time of ferroelectric domains to the applied electric field around 1ms.
Description
Máster en Física Aplicada. Facultad de Ciencias Físicas. Curso 2011-2012
Citation
[1] Vincent Garcia & Manuel Bibes, Nature, volumen 483, 279, 15 Marzo 2012 [2] Lee et al. Advanced Materials, 24, 2012, 402 – 406 [3] M. Dawber et al. Reviews of Modern Physics, volumen 77, 1083, Octubre 2005 [4] J. H. Haeni et al. Nature, volumen 430, 758, 12 Agosto 2004. [5] Takaaki Tsurumi et al. Applied Physics Letters, volumen 85, 5016, 22 Noviembre 2004 [6] K. J. Choi et al. Science, volumen 306, 1005, 2 Diciembre 2005 [7] O. Trithaveesak et al. Journal of Applied Physics, volumen 98 114101 (2005) [8] A. Roelofs et al, Applied Physics Letters, vol. 81, 5231, (2002) [9] Chu et. Al, Nature Materials, vol. 3, 87, (2004) [10] Huang et al., Physical Review B, 73, 212104 (2006) [11] K. Abe et al., Journal of Applied Physics, vol. 91, 323, (2002) [12] E. Y. Tsymbal et al. MRS. Bulletin, volumen 37, 138, Febrero 2012 [13] K. Rabe et al., Physics of Ferroelectrics. A modern Perspective. Topics in Applied Physics, vol. 105 (2007) [14] "Electronic an Optoelectronic Properties of Semiconductor Structures" J. Singh [15] G. Catalán et. Al, Reviews of Modern Physics, vol. 84, 119, (2012) [16] Tesis doctoral de Javier García Barriocanal, Universidad Complutense de Madrid (2007) [17] www.ferrodevices.com [18] Tesis doctoral de Alberto Rivera Calzada, Universidad Complutense de Madrid (2001) [19] A. Gruverman et al. Applied Physics Letters, 87, 082902 (2005) [20] http://www.asylumresearch.com/Applications/PFMAppNote/PFMAppNote.shtml