Publication:
Minix 3 sobre arquitectura ARM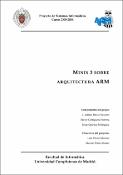 Advisors (or tutors)
Editors
Abstract
En este trabajo detallamos el proceso de desarrollo de un port del sistema operativo Minix 3 a arquitectura ARM. Para una mejor comprensión de este proceso, es necesario introducir al lector en una serie de conceptos. Por ello, en primer lugar introducimos Minix 3 y realizamos un análisis de sus aspectos más importantes. A continuación, exponemos las características más relevantes de la arquitectura ARM, comparándola con la arquitectura x86 en algunos puntos relevantes para nuestro trabajo. En las secciones siguientes mostramos la relevancia del proyecto, enumeramos los objetivos iniciales y el estado final que ha alcanzado el desarrollo. Posteriormente describimos en detalle los entresijos de la implementación, centrándonos en los aspectos más relevantes. Debido a su importancia, a continuación se dedica una sección para introducir al lector en el entorno de desarrollo que hemos utilizado, sus componentes y su utilidad, ya que este entorno es un componente crucial del proceso de implementación, y su configuración no es un asunto trivial. Finalmente, exponemos las dificultades con las que nos hemos encontrado en la realización del proyecto, así como el alcance final del mismo y las lineas de trabajo futuro que quedan abiertas. [ASTRACT] In this work we detail the developing process of porting the Minix 3 operating system to ARM architecture. For a better understanding of this process, we should introduce the reader into some basic concepts. Therefore, we first introduce Minix 3 and make an analysis of its main features. Afterwards, we present the main features of the ARM architecture, comparing with the x86 architecture in some outstanding points for our project. In the next sections we explain the importance of our project, list the initial goals and the state the development has reached. Later we go into details about the internals of the coding process, focusing in the most significant points. Due to its importance, the next section is used to introduce the reader into the development environment that we have used, its components and usefulness, for this environment is a vital part of the coding process, and its setup it is not a trivial issue. Finally, we present the dificulties we have faced during the execution of the project, just as the project scope and the future work lines to pursue.
Description
Trabajo de clase de la asignatura Sistemas Informáticos (Facultad de Informática, Curso 2008-2009)
Collections