Publication:
Interacción del delta-nueve-tetrahidrocannabinol con el sistema opioide central en roedores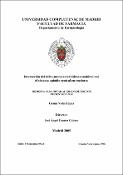 Authors
Advisors (or tutors)
Editors
Publisher
Universidad Complutense de Madrid, Servicio de Publicaciones
Abstract
El delta-9-tetrahidrocannabinol (delta-9-thc) es el principio activo con mayor actividad psicotomimética del Cannabis sativa o marihuana. En el presente trabajo, se ha estudiado la interacción del delta-9-thc con el sistema opioide central en roedores. Para ello, se han llevado a cabo una serie de experimentos in vivo, como son estudios de tolerancia y analgesia, que se han completado con estudios de autorradiografía (experimentos in vitro). En ratones dependientes de morfina, se ha observado que la anandamina, ligando endógeno del receptor central de cannabinoides, reduce los principales signos del síndrome de abstinencia a opiáceos, como son el número de saltos y la perdida de peso. Por otro lado se ha comprobado que la naloxona es capaz de inducir un síndrome de abstinencia en ratas macho de 24 días de edad expuestas a un tratamiento perinatal con delta-9-thc desde el día 5 de gestación de la madre hasta el día 24 de vida. Además las ratas expuestas a cannabinoides, muestran una distorsión en la percepción dolorosa, asi como una sensibilidad alterada al efecto analgésico de la morfina. Por ultimo, los estudios neuroquímicos han revelado que la exposición perinatal a delta-9-thc produce variaciones en la densidad de receptores opioides mu en distintas áreas cerebrales, tanto en ratas recién destetadas como adultas. Las observaciones experimentales descritas en esta memoria confirman la existencia de una interacción de los sistemas opioide y cannabinoide en roedores
Delta-9-tetrahydrocannabinol (delta-9-thc) is the active ingredient with the highest psychotomimetic activity of Cannabis sativa or marijuana. In the present work, the interaction of delta-9-thc with the central opioid system in rodents has been studied. For this, a series of in vivo experiments have been carried out, such as tolerance and analgesia studies, which have been completed with autoradiography studies (in vitro experiments). In morphine-dependent mice, anandamine, an endogenous ligand to the central cannabinoid receptor, has been shown to reduce the main signs of opioid withdrawal syndrome, such as the number of hops and weight loss. On the other hand, naloxone has been shown to be able to induce a withdrawal syndrome in 24-day-old male rats exposed to perinatal treatment with delta-9-thc from day 5 of gestation of the mother until day 24 of lifetime. Furthermore, rats exposed to cannabinoids show a distortion in painful perception, as well as an altered sensitivity to the analgesic effect of morphine. Finally, neurochemical studies have revealed that perinatal exposure to delta-9-thc produces variations in the density of mu opioid receptors in different brain areas, both in newly weaned and adult rats. The experimental observations described in this report confirm the existence of an interaction of the opioid and cannabinoid systems in rodents.
Description
Tesis de la Universidad Complutense de Madrid, Facultad de Farmacia, Departamento de Farmacología, leída el 05-11-1996
Collections