Publication:
El yeso tradicional y sus oficios en España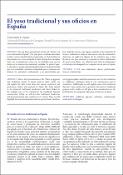 Authors
Advisors (or tutors)
Editors
Publisher
Grupo Español de Conservación del International Institute for Conservation, Asociación de Conservadores Restauradores de España
Abstract
Tras una breve presentación inicial del "Estudio del yeso tradicional en España" y los principales resultados obtenidos se dará a conocer el estado de la cuestión sobre los oficios históricos relacionados con el yeso en España. Es decir, de aquellos vinculados tanto con su producción como con los múltiples usos que ha tenido en la construcción tradicional española. En primer lugar, se abordará su producción tradicional histórica y los profesionales que en la actualidad continúan realizándola, para a continuación destacar los principales profesionales y no profesionales que han empleado el yeso y que siguen usándolo en la realización de técnicas tradicionales, tanto en obra nueva como de restauración. Asimismo, se explicaran algunas de las iniciativas que se han llevado a cabo para promover y recuperar los oficios tradicionales del yeso y por último, una reflexión final sobre la problemática existente para la salvaguardia de la arquitectura de yeso en España.
After a brief presentation of the "Study of gypsum and traditional plaster in Spain" and its main results, we will explain the state of art about the historic cratsmen and professions related with gypsum in Spain: like those related to its historical traditional production and those linked to the multiple uses of this material in the traditional Spanish construction. Firstly, we will describe traditional production and the professionals who continue to carry it out. hen, we will highlight the main professionals and non-professionals who have used gypsum plaster and who continue to use it in the realization of traditional techniques, both in new construction and in restoration. Additionally, we will explain some of the initiatives that have been carried out to promote and recover traditional gypsum crats. Lastly, we will give a inal consideration on the problems for the safeguard of gypsum architecture in Spain.
Collections