Publication:
La dimensión ética de las organizaciones de servicios sociales: estudio de un caso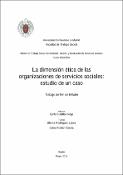 Authors
Advisors (or tutors)
Editors
Abstract
El objetivo de este trabajo es la investigación de la ética de las organizaciones de servicios sociales a través de un caso. En primer lugar se desarrolla el marco teórico, parte fundamental, pues constituye un instrumento metodológico en sí mismo al contener la teoría a través de la cual posteriormente se realizará el análisis. En segundo lugar se refiere y justifica la perspectiva metodológica utilizada del estudio de caso. Se ha tomado como objeto de estudio de caso una organización de servicios sociales perteneciente al Tercer Sector, en la que se ha llevado a cabo un análisis documental, entrevistas abiertas y observación directa, técnicas que han permitido centrar la mirada en la cultura ética de la organización, observando la estructura y comportamiento, así como los valores presentes en los discursos de sus profesionales. La reflexión desarrollada ha conducido a los resultados y discusión sobre las cuestiones éticas y valores que subyacen en la práctica profesional y en la gestión de la entidad, así como a las luces y sombras que en la práctica confronta la ética de las organizaciones de servicios sociales.
The goal of this work is to investigate the ethics of social services organizations through a case. First, the theoretical framework is developed, a fundamental part, because it represents a methodological tool in itself as it contain the theory through which the analysis will be performed later. Second, this work relates and justifies the methodological approach used in the case study. The case chosen is a social services organization belonging to the Third Sector, in which a document analysis, open-ended interviews and direct observation have been performed, techniques that have allowed to focus on the ethical culture of the organization, watching the structure and behavior, as well as the values present in the professional's speeches. The reflection developed has led to the results and discussion on ethical issues and values that underlie the professional practice and the management of the entity, just as lights and shadows that in practice the ethics of social service organizations confronts.