Publication:
Emerging strategies in anticancer combination therapy employing silica-based nanosystems.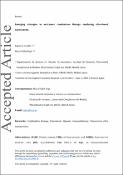 Advisors (or tutors)
Editors
Abstract
Combination therapy has emerged as one of the most promising approaches for cancer treatment. However, beyond remotely-triggered therapies that require advanced infrastructures and optimization, new combination therapies based on internally triggered cellkilling effects have also demonstrated promising therapeutic profiles. In this revision, we focus on self-triggered strategies able to improve the therapeutic effect of drug delivery nanosystems. As reviewed, ferroptosis, hypoxia, and immunotherapy show potency enough to treat satisfactorily tumors in vivo. However, the interest of combining those with chemotherapeutics, especially with carriers based on mesoporous silica, has provided a new generation of therapeutic nanomedicines with potential enough to achieve complete tumor remission in murine models.
Description
RESEARCH ID L-2854-2014 (Rafael Castillo Romero) ORCID 0000-0003-1957-3098 (Rafael Castillo Romero) RESEARCHER ID M-3378-2014 (María Vallet Regí) ORCID 0000-0002-6104-4889 (María Vallet Regí)
Collections