Publication:
Modelling and forecasting a balance of payments.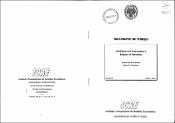 Advisors (or tutors)
Editors
Publisher
Facultad de Ciencias Económicas y Empresariales. Instituto Complutense de Análisis Económico (ICAE)
Abstract
Este trabajo informa sobre el desarrollo de métodos para modelizar y preveer una Balanza de Pagos (BP) nacional, empleando una versión extendida del enfoque de análisis de series temporales Box y Jenkins. Se trata una BP completa y esto permite describir las propiedades típicas de tales datos. En este artículo se presentan nuevos enfoques para modelizar las variables flujo de capital, las variables de flujo neto o de saldo y las reservas de divisas. Las ilustraciones ofrecidas en este artículo han sido extraídas del estudio realizado por los autores para el caso español con datos mensuales.
This paper reports on the development of methods for modelling and forecasting a complete national Balance of Payments (BP), employing aD extended versíoD of the Box and Jenkins approach to time series analysis. The full BP is treated, findings on the properties typical of such data are described, new approaches to modelling capital flow variables, net flow (balance) variables and the official foreign exchange reserves tlow are offered. Illustrations are taleen from the authors'study for the Spanish case with monthly data.
Citation
Alejano, A., "El proceso de liberalización del mercado de divisas y la intervención del Banco de España", Documento interno EC/1994/4, (1994). Box, G.E.P., and Cox D.R., "An analysis of transformations", Journal of the Royal Statistical Society, Ser. B, 26 (2), (1964), 211-252. Box, G.E.P., and Jenkins, G.M., "Time series analysis: forecasting and control", Halden Day, San Francisco, (1970). Third edition with G. C. Reinsel. Prentice Hall, Englewood Cliffs, New Jersey, (1994). Eguidazu Palacios, F., "La nueva legislación sobre liberalización de movimientos de capital", Boletín ICE Económico, (1991), 3871-3877. Gallego, J. L., and Treadway, A. B., "The general seasonal ARIMA family of stochastic process", Documento de trabajo, 96.01, Departamento de Economía. Universidad de Cantabria, (1996). Lin, W. T., "Analysis and forecasting of income statement account balance. The dynamic interdependency and ARIMA approaches", Journal of Forecasting, 11, (1992), 283-307. Mauricio, J. A., "Exact Maximum Likelihood estimation of stationary vector ARMA models", Journal of the American Statistical Association, 90, (1995), 282-291. Boletín Estadístico. Notas, Banco de España,(1989), 325-327. Padilla, R., La demanda de servicios turísticos en España. Tesis doctoral. Facultad de Ciencias Económicas y Empresariales. Universidad Complutense de Madrid, (1987). Río, R., Un sistema de previsión y seguimiento de la balanza de pagos española. Tesis doctoral. Facultad de Ciencias Económicas y Empresariales. Universidad Complutense de Madrid,(1995). Sebastián, M., "Un análisis estructural de las exportaciones e importaciones españolas: evaluación del periodo 1989-91 y perspectivas a medio plazo", Documento de Trabajo, 14, Servicio de Estudios del Banco de España, (1991). Treadway, A.B., "On the properties typical of economic time series", Qüestiió, 8, nº.1, (1984) 21-38. Treadway, A.B., "A monitor and farecast service for the spanish economy". Journal of Forecasting, 13, (1994), 141-155. Wilson, P., "Tourism earnings instability in Singapore, 1972-88," Journal of Economic Studies, 21, (1994),41-51. Yang, Q., "The US Current Account", Illinois Business Review, 49, (1992), 5-8.