Publication:
Efecto modulador del sevoflurano sobre la respuesta inflamatoria sistémica secundaria a la ventilación unipulmonar en un modelo experimental de cirugía de resección pulmonar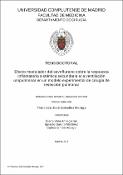 Files
Authors
Advisors (or tutors)
Editors
Publisher
Universidad Complutense de Madrid
Abstract
El daño pulmonar agudo (DPA) y el síndrome de distrés respiratorio agudo (SDRA) son las principales causas de muerte tras cirugía torácica, disminuyendo drásticamente la supervivencia de los pacientes del 92% al 56% al año. En los últimos años, se ha demostrado cómo la ventilación mecánica unipulmonar produce una liberación de citoquinas inflamatorias producto del daño pulmonar (biotrauma). Esta reacción inflamatoria no se confina sólo a los pulmones, si no que también involucra a la circulación sistémica, con la consiguiente liberación de mediadores inflamatorios y degradación del glicocálix endotelial, afectando a órganos distales como el hígado, lo cual ya en el contexto del SDRA y la ventilación mecánica asociada, ofrece una explicación de por qué los pacientes con SDRA no mueren por fallo respiratorio y sí por síndrome de disfunción multiorgánica. Del sevoflurano, anestésico halogenado, es sabida su propiedad inmunomoduladora en estudios de isquemia-reperfusión a nivel cardiaco, SNC o pulmón, teniendo la intención de precisar su papel con respecto a la inflamación sistémica en cirugía torácica donde se requiere ventilación unipulmonar (OLV)...
Acute lung injury (ALI) and acute respiratory distress syndrome (ARDS) are the leading causes of death alter thoracic surgery, drastically decreasing the survival from 92% to 56% during first year. In recent years, it has been shown that one lung ventilation (OLV) produce a release of inflammatory citokines product of lung injury (biotrauma). This inflammatory response is not confined alone to the lungs and impacts in other remotes organs, like the liver, with the realiasing of inflammatory mediators and sheppeing of lung-endotelial glycocalix. This phenomenon is already in the context ARDS and mechanical ventilation, could be an answer because ARDS patients not die by respiratory failure and yes by multiorganic dysfunction syndrome. Sevoflurane, halogenated anesthesic, has inmunomodulatories properties, which have been demonstrated in isquemic-reperfusion studies at cardiac level, central nervous system and lung… trying to define its role with respect to systemic inflammation in thoracic surgery where does require one lung ventilation...
Description
Tesis inédita de la Universidad Complutense de Madrid, Facultad de Medicina, Departamento de Cirugía, leída el 08/03/2017
Collections