Publication:
Safety and Efficacy of Several Versus Isolated Prophylactic Flexor Tenotomies in Diabetes Patients: A 1-Year Prospective Study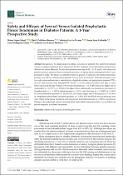 Advisors (or tutors)
Editors
Abstract
To assess long-term clinical outcomes of patients who underwent isolated versus several percutaneous flexor tenotomies for the treatment of toe deformities and previous diabetic foot ulcers; Methods: Twenty-three patients (mean age 66.26 ± 11.20, years) who underwent prophylactic percutaneous flexor tenotomies secondary to tip-toe ulcers participated in this 1-year prospective study. The study was stratified into two groups for analyses: (1) isolated tenotomies patients, and (2) several tenotomies patients (two or more tenotomies). Outcome measures were toe reulceration and recurrence, minor lesions, digital deformities, and peak plantar pressure (PPP—N/cm2) and pressure/time Integral (PTI—N/cm2/s) in the hallux and minor toes after a 1-year follow-up period; Results: Patients with isolated tenotomies (n = 11, 35.48%) showed a higher rate of reulceration (n = 8, 72.7%, p < 0.001) in the adjacent toes, additionally, we found more prevalence of hyperkeratosis (n = 11, 100%), minor lesions (n = 9, 81%), and claw toes (n = 11, 100%) (p < 0.001). In several tenotomies patients (n = 20, 64.52%), we found a higher rate of floating toes (n = 16, 80%) in comparison with isolated tenotomies patients (p < 0.001). PPP and PTI in the non-tenotomy toes were higher in the group of patients who underwent isolated tenotomies (p < 0.001); Conclusions: Patients who underwent several tenotomies had better clinical outcomes after a 1-year follow-up period compared to isolated tenotomies.
Collections