Publication:
Gestión de la logística de exámenes en la Universidad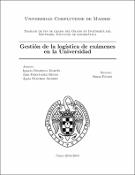 Advisors (or tutors)
Editors
Abstract
El presente Trabajo de Fin de Grado ha sido realizado por tres alumnos especializados en el Grado de Ingeniería del Software y tiene como fin modernizar el proceso educativo mediante una mejora de la gestión de la logística de exámenes. Este proyecto se fundamenta en el estudio de necesidades y la implementación de una tecnología que facilite la organización y distribución de las aulas y los alumnos para la realización de los exámenes. La solución propuesta consiste en una aplicación web que ofrece a la administración la capacidad de gestionar aulas, fechas de exámenes y los respectivos modelos de examen de cada asignatura dentro de un solo sistema. Llegado el momento del examen, el proceso se llevaría a cabo mediante el envío a la aplicación de las lecturas de las tarjetas de estudiantes, de tal modo que la aplicación imprimiese y situase a los alumnos con el uso de un algoritmo de distribución aleatoria dentro del aula de tal modo que se reduciría la pérdida de tiempo en la organización de las aulas en el momento del examen y evita posibles situaciones irregulares de copia. Para realizar el cometido y hacerlo posible, se han tenido en cuenta las distintas restricciones y riesgos con los que contaría la aplicación dentro de su potencial entorno de instalación.
The main objective of the present end-of-degree project is to modernize the educational process by the study and development of a web application that pursues the facilitation of the examination logistics management. This project is based on the study of needs and the consequential implementation of a technology that facilitates the organization and distribution of classrooms and students for the realization of exams. The proposed solution consists of a web application that provides the administration with the possibility to manage classrooms, exam dates and the respective examination models of each subject within a single application. In the course of examinations, the process would be carried out by sending to the application the student card readings, in such a way that the application will print and place the students by means of a random distribution algorithm within the classroom, reducing the loss of time in the organization of the classrooms at the time of the examination and avoiding possible irregular situations of cheating. To carry out this task and make it possible, the different restrictions and risks with which the application would count within its potential installation environment have been taken into consideration.
Description
Trabajo de Fin de Grado, Universidad Complutense, Facultad de Informática, Departamento de Sistemas Informáticos y Computación, Curso 2018/2019