Publication:
La Nación, Peronism, and the Origins of the Cold War in Argentina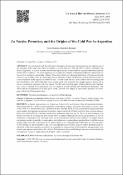 Advisors (or tutors)
Editors
Publisher
Consejo Superior de Investigaciones Científicas
Abstract
This article deals with the international dimension of Argentine domestic policies by exploring one of the strategies of the conservative daily newspaper La Nación, between 1946 and 1950, in order to challenge Juan Perón's hegemony. La Nación presented the Peronist regime as akin to the totalitarian regimes established under the Soviet Union's vigilance. This is not surprising, but revealing the complex ideological mechanisms employed by La Nación in its strategy is a noteworthy endeavor. This work will provide a thorough exploration of the process through which La Nación shifted from its former opposition to Peronism, initially identified as a Nazi-Fascist movement, to a new articulation of the regime as a totalitarian one. To some extent this was not so different from the strategy that the United States' (US) intellectual elites were carrying out in order to justify their struggle against a former ally in war as a continuation of purpose and not a rupture. Yet, the most interesting aspect of this evolution in the Argentine case is that it emerged in an autonomous way as a result of specific national and international phenomena. This shows that the characteristics of the early phase of the Cold War were shaped by transnational processes of convergence rather than US hegemony alone.
Este artículo analiza la dimensión internacional de la política interna argentina explorando la estrategia del diario conservador La Nación, entre 1946 y 1950 en su enfrentamiento con el gobierno de Juan Domingo Perón. La Nación presentó el régimen peronista como similar a los regímenes totalitarios establecidos bajo el control de la Unión Soviética. Esto no resulta sorprendente, pero comprender los complejos mecanismos ideológicos empleados por La Nación en esta estrategia es un objetivo relevante de investigación. Este artículo ofrece un análisis detallado del proceso que permitió a La Nación transformar su descripción del peronismo como un movimiento nazi-fascista a otro totalitario. De alguna manera este proceso caminó en paralelo a la estrategia de los intelectuales estadounidenses para justificar el conflicto con un antiguo aliado como una continuación de los mismos objetivos de la Segunda Guerra Mundial y no como una ruptura. Sin embargo, lo más interesante es que en el caso argentino esta evolución surgió de manera autónoma como resultado de condiciones específicas nacional y de una particular interpretación de los fenómenos internacionales. Esto muestra que algunas características de la Guerra Fría temprana fueron moldeadas por procesos transnacionales de convergencia y no por la hegemonía de los Estados Unidos en solitario.
Collections