Publication:
Estudio del rendimiento y la seguridad en redes ad hoc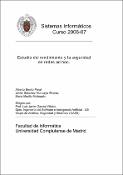 Advisors (or tutors)
Editors
Abstract
Actualmente, las redes inalámbricas están registrando sus mayores avances debido a la gran utilidad que ofrecen. En el presente documento nos hemos centrado en las redes MANET sin punto de acceso. Hemos realizado un estudio en profundidad de sus características, una estricta y detallada clasificación de los distintos protocolos que existen en la actualidad. Además, hemos realizado un intenso estudio de algunos de estos protocolos, dando detalles de funcionamiento y posible implementación. Más concretamente hemos estudiado el protocolo proactivo OLSR (Optimized Link State Routing Protocol) y varios protocolos reactivos, como son el DSR (Dynamic Source Routing) y el AODV (Ad Hoc On-Demand Distance Vector). Además, hemos hecho un análisis sobre la integración de la seguridad en éste último protocolo, denominado SAODV, dotado de pruebas y comparativas. [ABSTRACT] Presently, wireless networks are achieving their great improvements due to the huge utilities they offer. In this document we have focussed special attention to MANET networks without an access point. We have realised a deep study into their characteristics, we have also made a strict and detailed classification of the different protocols existing up to now. Also, we have realised an intense study of some of these protocols, standing out how they work and how to implement them. Concretely, we have studied OLSR (Optimized Link State Routing Protocol) as an example of a proactive protocol. And for the reactive protocols we have studied DSR (Dynamic Source Protocol) and AODV (Ad Hoc On-Demand Distance Vector). Also, we have analysed how to integrate security in this last protocol protocol, called SAODV, including test and comparatives.
Description
Trabajo de la asignatura Sistemas Informáticos (Facultad de Informática, Curso 2006-2007)
Collections