Publication:
Estudio de coste eficacia en el manejo de la degeneración macular asociada a edad en la práctica clínica real con ranibizumab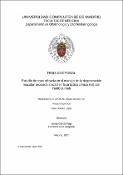 Files
Authors
Editors
Publisher
Universidad Complutense de Madrid
Abstract
La degeneración macular asociada a edad es un reto para la oftalmología moderna, pues en los últimos años ha evolucionado desde la imposibilidad para tratarla hasta la carrera por mejorar tanto los resultados visuales como los costes asociados y las cargas asistenciales que han modificado los servicios de retina. Uno de los factores determinantes en este cambio, han sido los fármacos antiangiogénicos, que han mejorado los pronósticos de los pacientes pero han complicado las gestiones de nuestras unidades. La DMAE es una enfermedad degenerativa que se inicia habitualmente en las capas más internas de la coroides, en forma de drusas, y a partir de los 40 años. Estas alteraciones van creciendo en magnitud haciendo que la función macular se vea afectada hasta la pérdida completa, bien en su evolución hacia la forma atrófica o hacia la forma exudativa. La DMAE es la primera causa de ceguera no reversible en mayores de 60 años: más frecuente en la raza caucásica. Los estudios de los años 90 y primera década de los 2000 son coincidentes en la distribución de la enfermedad, siendo el factor de riesgo más importante la edad; a mayor edad mayor riesgo, siendo hasta 16 veces mayor en el grupo de más de 75 frente a los mayores de 65. Igualmente la bilateralización es un factor clave para el manejo de los pacientes, pues hasta del 70-83 % de los casos a 5 años sufrirá NVC en el ojo contralateral. La DMAE es una de las enfermedades causantes de ceguera más prevalentes, junto con las cataratas, glaucoma y la retinopatía diabética según el Foro Europeo contra la Ceguera...
Age-related macular degeneration is a challenge for modern ophthalmology, since in recent years has evolved from the inability to treat, to the race to improve both the visual results as the associated costs and burdens of care services that have changed retinal departaments. One of the determining factors in this change were antiangiogenic drugs, which have improved prognosis of patients but have complicated the efforts of our units. ARMD is a degenerative disease that usually starts in the innermost layer of the choroid, as drusen, and from age 40. These alterations are growing in magnitude causing the macular function is affected to a complete loss, either in its evolution towards atrophic or to the wet form. ARMD is the leading cause of non-reversible blindness in people over 60 years: more common in Caucasians. Studies of the 90s and the first decade of the 2000s are consistent in the distribution of the disease, the most important risk factor for ARMD is age; increased risk to older, being up to 16 times higher in the group of more than 75 years old, compared to over 65. Bilateralisation is also a key factor in the management of patients, for up to 70-83% of cases 5 years suffer CNV in the fellow eye. ARMD is one of the most prevalent diseases causing blindness, together with cataracts, glaucoma and diabetic retinopathy as the European Forum Against Blindness says...
Description
Tesis inédita de la Universidad Complutense de Madrid, Facultad de Medicina, Departamento de Oftalmología y Otorrinolaringología, leída el 01-02-2016
Collections