Publication:
A Review of the Role of Micronutrients and Bioactive Compounds on Immune System Supporting to Fight against the COVID-19 Disease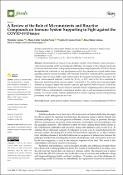 Advisors (or tutors)
Editors
Abstract
Micronutrients are critical for an adequate function of the immune system and play a vital role in promoting health and nutritional well-being. The present work is aimed at reviewing (1) the role of micronutrients in helping the immune system to fight against the COVID-19 disease through the diet with food or food supplements and (2) the potential use of food health claims regarding immune function according to the European Food Safety Authority (EFSA) requirements. Till date, there are some health claims authorized by the European Commission that refer to the role of certain essential nutrients (vitamins B6 , B9 , B12, A, D, C, and Cu, Fe, Se) to contribute to the proper functioning of the immune system. Vitamins D, C, Zn, and Se, have been thoroughly studied as a strategy to improve the immune system to fight against COVID-19 disease. From all the micronutrients, Vitamin D is the one with more scientific evidence suggesting positive effects against COVID-19 disease as it is linked to a reduction of infection rates, as well as an improved outcomes in patients. To validate scientific evidence, different clinical trials are ongoing currently, with promising preliminary results although inconclusive yet.
Collections