Publication:
El metamorfismo del Paleozoico de la isla de Menorca (Islas Baleares).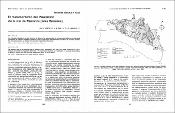 Authors
Advisors (or tutors)
Editors
Publisher
Instituto Geológico y Minero de España (Madrid)
Abstract
Los materiales paleozoicos del área Hercínica de Menorca han experimentado un metamorfismo de bajo y muy bajo grado (Carbonífero en tránsito a diagénesis (Devónico), cuyas características son establecidas. Se define una inversión metamórfica entre ambas series y su relación con otras áreas metamórficas hercínicas.
The paleozoic rocks in the Hercynian area of Menorca island, underwent a very low to low grade metamorphism (Carboniterous) in transition to diagenesis (Devonian). The metamorphic features are established. A reversal metamorphism is defined in relation with other hercynian metamorphic areas in lberian Massif.
Collections